We are better together
Even though they sit opposite each other at the table and may disagree, the experience of supplementing and strengthening each other is what counts. The cooperation between senior union representative Line Faaborg Larsen and head of branch region Niels Thorslund is good
​
"We're good at talking to each other. We discuss things before they develop into major problems."
Senior union representative Line Faaborg Larsen is physically located in Sønderborg and her experience is that the cooperation with Niels Thorslund is good and constructive. He has his office in Odense and is the head of the region with around 300 employees.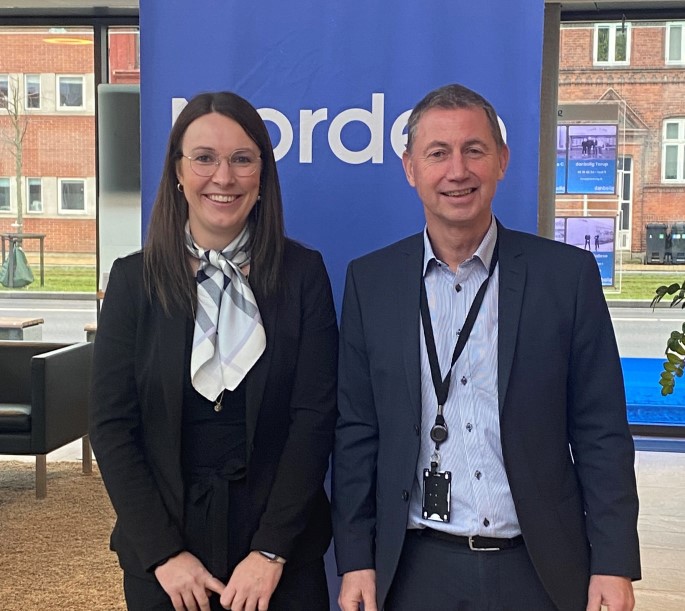 They meet up with the region's union representatives up to four times a year and have scheduled Teams meetings every other month. 
The meetings are held irrespective of whether there is anything special on the agenda or not.
They agree that the regular meetings have helped built trust between them.
"Our cooperation is super good," says Line Faaborg Larsen.
The head of region thinks it's important that they can have open and honest dialogues:
"I think we're so much better together that way than we are separately. Previously it was as if I had to explain myself to the union representatives when something didn't work." 
He recalls that focus used to be on the problems. 
"Now we have become better at talking about what works and what doesn't. It gets more constructive this way. And it means that I have been able to open up more to Line."
A balancing act
They both believe their cooperation is constructive and makes things happen for the benefit of both parties. 
Line Faaborg Larsen, who has been a senior union representative for four years and before that a union representative for ten years, explains that it's a balancing act – but that she doesn't see it as a problem.
"Of course, I'm the employees' representative. Niels and I don't always see eye to eye; we can also disagree strongly. But we can always talk about it, and I experience a genuine interest from Niels to solve any problems that might pop up," she says.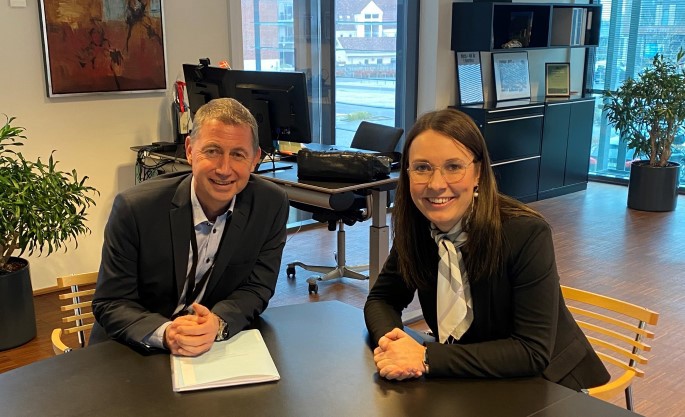 Good well-being survey results
Overall, however, both agree that there aren't many problems in the region. In general, the region is doing well in the internal well-being surveys – even though differences between branch offices do exist. 
All units in the region have a union representative apart from one, but the senior union representative and the head of region would like this role to be filled.
"I have been a leader since I was in my early 20s – as far as I recall I have always considered union representatives to be important. I also tell the day-to-day leadership teams at the branch offices that it can be beneficial to involve the local union representative more and at an earlier stage," says the head of region and adds:
"It's always key to have a well-functioning group of union representatives and especially at a time such as now with major structural changes that can cause concern among employees."
Therefore, he also makes sure that Line Faaborg Larsen has been informed before decisions affecting employees are carried out.
Sounding board
Line Faaborg Larsen's has great confidence in Niels Thorslund and is therefore also using him as a sounding board.
"Sometimes there is nowhere obvious to go for feedback when I have a question. On these occasions, I may well turn to Niels and ask for his opinion in private. He has so much experience and can in some situations help me when I have doubts."
She feels that the head of region prioritises the dialogues with her:
"Even though I know that Niels is a busy man, he is never too busy to listen when I call him. That means a great deal."
Good dialogue
Niels Thorslund calls the dialogue between them good and honest and is happy with the topics raised by the senior union representative:
"Line is good at being concerned whenever there is a reason."
She is praising him for leading the local branch office leaders by example, for being attentive and showing commitment – for example, he participates in the regional union representative meetings.
"Our branch offices in the region have had a visit from the financial sector's joint well-being consultants. I think it reflects good management to have an open mind about this and about continuing to work with well-being."
The head of region stresses that their interests are, by and large, aligned when it comes to well-being and most other matters:
"Based on the framework that applies within Nordea, we have a common interest in having a good workplace."
150 union representatives
Finansforbundet in Nordea's around 150 competent union representatives cover the entire bank. The union representatives offer you advice and support. They also act as a sounding board for Nordea's people leaders in every day working life and in case of major changes. Finansforbundet in Nordea is the only union with union representatives at Nordea Denmark.
Read more about what you can use your union representative for here
Find your local union representative and your local work environment representative at Nordea's Intranet
Local dialogue about well-being