"It's the chair next to me that's important"
Newly appointed Head of Customer Communications, Sigrid Meyer, uses the social and professional communities at Nordea to gain new perspectives and boost job satisfaction. It's been quite a few years since she was a student employee – but she is still benefiting from her time as chairperson of Nordea Student Network
"Basically I don't think that much about my own chair. It's the chair next to me that's important. It's the person sitting in that chair that makes it great to go work and makes me feel that I'm part of a team."
These are the words of Sigrid Meyer, and Finansforbundet in Nordea (FiN) met her to learn more about the value of communities from a young perspective.
"Instead of sitting alone with an assignment, we can use communities to be challenged and get good ideas. I work with communication and this is an area where it's essential to get other people's perspectives. I often say that I've never seen a real customer. Of course that's not quite true – but it's a way of reminding myself why it's so important to always reach out. No matter whether it's an agent who speaks with 100 customers every day or a product owner who knows about every technical detail – they will always be able to spot something that I've overlooked. You cannot create the good solutions alone – you need input from others."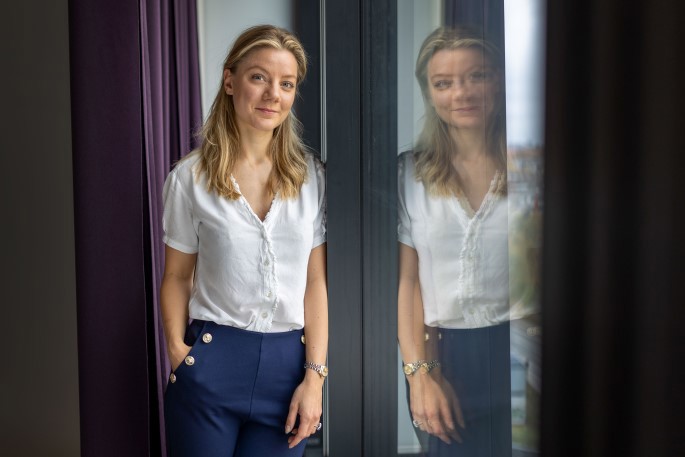 "It may look like I've chosen the 'easy' way but that's definitely not the case. I've worked here eight years because I've several times actively chosen to stay at Nordea," says Sigrid Meyer, who was recently appointed Head of Customer Communications in Denmark.
Sigrid Meyer makes it is priority to contribute to the community herself.
"If others ask for feedback, it's of course easiest to decline and go on with your own work, but it's important to help. That also goes for social interaction – to participate if a colleague has taken the initiative to arrange something. Making time together a priority is good for the social climate and working environment. And it boosts our team spirit when we work hard together to provide our customers with good solutions – also when it's sometimes a bit tricky," says Sigrid Meyer.
Student employees are a talent pool
Although Sigrid Meyer is only 32 years old, she already has eight years at Nordea on her CV. She started as an intern while she was studying at Copenhagen Business School and later became a student employee and chairperson of Nordea Student Network – the network for student employees at Nordea in Denmark. At the time the network had about 700 members, of which half worked at Nordea 24/7.
"We had two goals: We wanted to make Nordea attractive to the student employees to make them stay with the bank after they had finished their education. And we wanted to draw leaders' attention to the fact that student employees are a talent pool. Student employees already know Nordea so it's more plug'n'play if they continue in a permanent position than if leaders have to recruit external applicants," says Sigrid Meyer.
"High-way system" across Nordea
To strengthen the community Nordea Student Network arranged a number of events where they highlighted career opportunities at Nordea, held PowerPoint courses and invited representatives from management to talk about their careers at Nordea. There were also social events such as Christmas lunches and Friday after-work drinks.
"It was all about creating a fun and relaxed community, particularly for student employees at the head office, who were often the only student employee in a team. Nordea Student Network was a safe and comfortable forum for others in similar situations," says Sigrid Meyer.
She is still benefiting from her time at Nordea Student Network today.
"Thanks to the network I know colleagues who do very different things from what I work with – because we were student employees during the same period. At the time my network of other student employees gave me a kind of "high-way system" across teams – and many others felt that way too. It was a big help and has given me many perspectives. It's still a help today, because many of my fellow student employees stayed at the bank."
Take advantage of differences
The day of this interview was Sigrid Meyer's 17th day as newly appointed Head of Customer Communications. Although she is new in this role, she has already thought about how she can contribute to the community as a leader.
"It's important that I share my knowledge as a leader and that we exchange knowledge across teams. The things that give me perspective will also offer just as much perspective for my colleagues in the team. And it's important to take advantage of our differences. As a former student employee I know how important it is that you always feel included and an important part of the community – even if you only work 20 hours a week. And I think you should always be humble – especially if you're a young leader. There will always be others who are more creative or experienced – and as a colleague you need to be able to acknowledge how crucial that knowledge or skill is."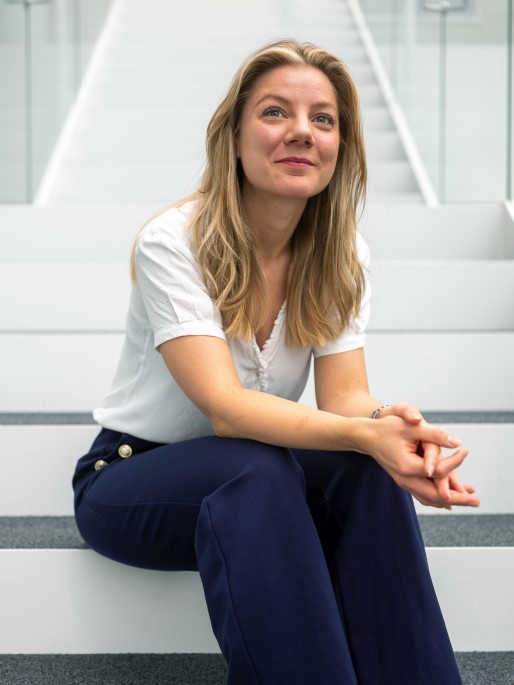 Eight years in the same workplace may look boring on the CV
Not many people Sigrid Meyer's age have worked eight years for the same company.
"It may look like I've chosen the 'easy' way but that's definitely not the case. I've worked here eight years because I've several times actively chosen to stay at Nordea. That was also the case when I moved on from being a student employee to getting a permanent job – it was a very deliberate choice. During that process I realised that I was only considering opportunities outside Nordea because I thought it would look boring on my CV to remain at the same workplace for too long. But the truth was that I very much preferred to stay with Nordea where I felt I was offered the best opportunities. And that's how I still feel today. And of course because I still really feel that I belong."