Honest outside feedback is developing and challenging
A year ago Finansforbundet in Nordea (FiN) set up an advisory board, inviting members and non-members to provide input on how to align the union more with the increasingly diverse group of colleagues at Nordea
Could union representatives take on a more active role as trendsetters, acting more as coaches to build bridges for employees and less as 'case workers' for employees who need help with specific issues? Could FiN get a new role as an internal headhunter, helping employees move on to other jobs internally at Nordea?
These were just two of the suggestions from the advisory board that FiN set up a year ago. But let's go back to the beginning.
"Employees at Nordea are becoming increasingly diverse in terms of educational background, nationality and age. FiN must ensure that all types of employees continue to see us a relevant for them also in future," says vice president Mette Balck Mejlby.
Several non-members joined
That's why the board last autumn decided to set up an advisory board to come up with ideas on how the union can develop – externally facilitated in order not to influence the process and ideas. And that was popular! No fewer than 37 colleagues applied to participate, although the work was voluntary and unpaid.
"We were very excited to see how many would apply and we're very pleased about the strong interest. We particularly wanted to hear from applicants who were not close to us and could provide an outside-in perspective. We selected 11 applicants with different backgrounds, some of whom were not members," says Mette Balck Mejlby.
Closer interaction with Nordea!
One of the members of the advisory board was Anne-Marie Arnvig, Senior Marketing Partner at Nordea Finans.
"Nordea is a big, complex company where FiN plays a role in how I can influence working life here. I wanted to be part of that, for Nordea is also 'mine'. The opportunity to learn something myself was another motivation for applying," says Anne-Marie Arnvig, who found a common denominator among all the advisory board members.
"It was important for all of us to develop in our jobs and to have influence. We wanted FiN to be a sparring partner for the bank both professionally and socially. We realised that many of the things we suggested – such as more network groups – already exist. They're just not very visible and of course that's a problem in itself."
Specialist at company level
Another impression was that the members of the advisory board rarely differentiate between whether the sender is the Danish umbrella union Finansforbundet (Financial Services Union) or FiN.
"There is no doubt that we're part of the same offer to the members. That's also one of the reasons why we changed the name from Kreds Nordea to Finansforbundet in Nordea a couple of years ago – to make the common identity clearer. Finansforbundet specialises in the collective conditions and framework of the financial sector, while FiN's unique strength is that we specialise at company level. As the only negotiation partner at Nordea in Denmark we know the organisation well through the members, our network of elected representatives and our formal relationship with the management team. We must try to make that strength even more visible," says Mette Balck Mejlby.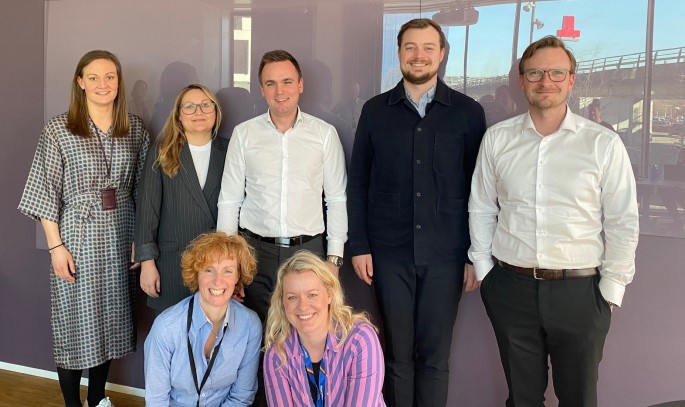 Top from the left: Evelina Klang-Wisén, Gitte Aaskov Pedersen, Thomas Ostenfeld Lindal, Mikkel Johansen and Casper Forsström. Bottom row: Anne-Mette Arnvig and Pia Kirk – at the advisory board's presentation of their proposals to the board of FiN.

As an employee at Nordea Finans the advisory board was a chance for Anne-Marie Arnvig to meet colleagues from across Nordea.
Larger network and community
"I've expanded my network at Nordea. The work for the advisory board was also a good opportunity to reflect more about what's important in my working life. And it was nice to experience that the board was genuinely curious about the proposals that we made. I don't feel that our proposals were exactly revolutionary – I would have liked us to think more out of the box," says Anne-Marie Arnvig.
Mette Balck Mejlby does not agree that the proposals were minor:
"We've received some really valuable input and we're very grateful for the advisory board's strong commitment. We work on some of the proposals locally in FiN. For example, we have together with the senior union representatives discussed how to develop and maybe differentiate the union representative of the future. Most recently we've invited interested elected representatives to become involved in this process, and we're going to present this discussion to Finansforbundet, which is in charge of training the union representatives," says Mette Balck Mejlby, who encourages everybody to be patient – things take time in a political and democratic organisation.
Other measures include an updated communication strategy with more digitalised and targeted communication and increased use of social media.
First mover
Other proposals concern the central Finansforbundet and have been submitted to the board.
"In FiN we've been first movers as regards inviting 'outsiders' to challenge ourselves on our blind angles and biases. We've presented the set-up and the input we've received to the political bodies of Finansforbundet, to our Nordic colleagues at Union in Nordea and to other organisations under Finansforbundet. All in all, everybody has been very interested and we've definitely been encouraged to reach out next time we need good input," emphasises Mette Balck Mejlby.
The work of the advisory board culminated in March when the members presented their proposals to the board. A virtual meeting was also held with FiN's members, and the initiative was mentioned in the board's report at the annual general meeting.