Finansforbundet has more to offer me
After seven years at Nordea, deputy branch manager Mikkel Johansen joined Finansforbundet. "I didn't know how many opportunities it would give me"
​
"So far I've taken two or three courses. And I've gained more precise knowledge about the collective agreement. That's useful as a leader."
Mikkel Johansen, deputy branch manager at Nordea in Lyngby, is pleased about the opportunities that he got when he joined Finansforbundet one year ago.
"I didn't know how many opportunities it would give me. Previously I was a member of DJØF, a competing union. I have relatives who work at DJØF and that was one of the reasons why I chose it," explains 28-year-old Mikkel Johansen, who is a leader of 20 employees and has now worked eight years at Nordea.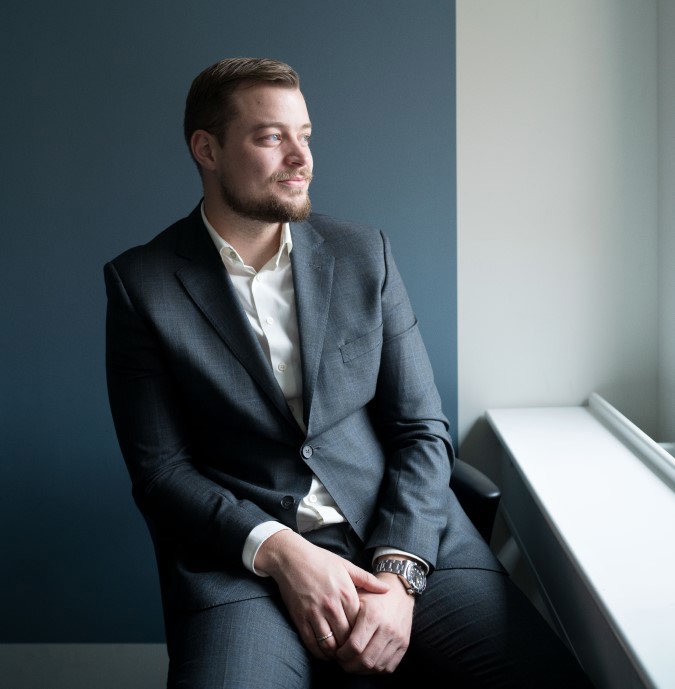 "Previously I was a member of DJØF, a competing union," says Mikkel Johansen, deputy branch manager at Nordea in Lyngby, who changed to Finansforbundet a year ago.
Joined advisory board
Last year when Finansforbundet in Nordea (FiN) set up an advisory board to get constructive criticism and new ideas from employees across the bank, Mikkel Johansen was inspired to change unions. 
He was encouraged to take part in the three-month advisory board process where he provided input to improvements and ideas on how FiN can develop as a union.
"It was exciting to be a part of. Before I didn't have any deeper insight into the differences between unions, and I realised that DJØF was more targeted at lawyers and employees in the public sector, while Finansforbundet's direct target group is the financial sector. It felt natural to be a member there."
Relevant courses
When he took a closer look at Finansforbundet's events and courses, he soon found courses that appealed to him.
"One of the courses that I took was everyday working life at the bank as a leader in the labour market of the future. It was inspiring and I feel like taking many more courses. I'm super curious both professionally and theoretically."
That's why he appreciates the regular reminder e-mails from Finansforbundet about courses he might be interested in.
"The training programmes available through Finanskompetencepuljen are also clearly something I'm interested in."
But a more long-term training programme will not be relevant in the near future:
"I have an 18-month-old daughter so right now I don't have the time or get enough sleep to do that."
Good background knowledge
In addition to the available courses, talks and training programmes, Mikkel Johansen has gained quite in-depth knowledge of the collective agreement, its contents and the opportunities it offers employees. 
He has also learnt more about the training programme to become a union representative.
"It's not something I think about specifically when I work together with the union representatives. But on a more subconscious level I feel that I now have a better understanding of their role and competencies. So it makes good sense to have that knowledge as a leader." 
​