I was afraid to ask about Daniel being gay
Wealth adviser Daniel Hansen felt in some contexts unconsciously excluded by his manager and colleagues. After he said it out loud, it opened up new insights for his leader, Jan Strange Lithander.
When Jan Strange Lithander went through the People Pulse well-being survey from his employees last year, he had an unpleasant and completely unexpected experience.
One of the employees, wealth adviser Daniel Hansen, expressed in a comment field that he felt discriminated against as a homosexual.
"I feel in everyday life that my managers have a greater understanding of my co-workers, the majority of whom have family lives. I feel put in a 'prejudice box' which does not reflect me as a person."
Jan Strange Lithander felt affected by the comment. In his own self-understanding he was very aware that diversity must be promoted.
"Honestly, I have no opinion on who other people love. I knew Daniel was gay, so what? I'm all for diversity and thought I had it under control."
New insights
The manager was immediately aware that they had to start a dialogue. It was with sweaty palms that he opened it.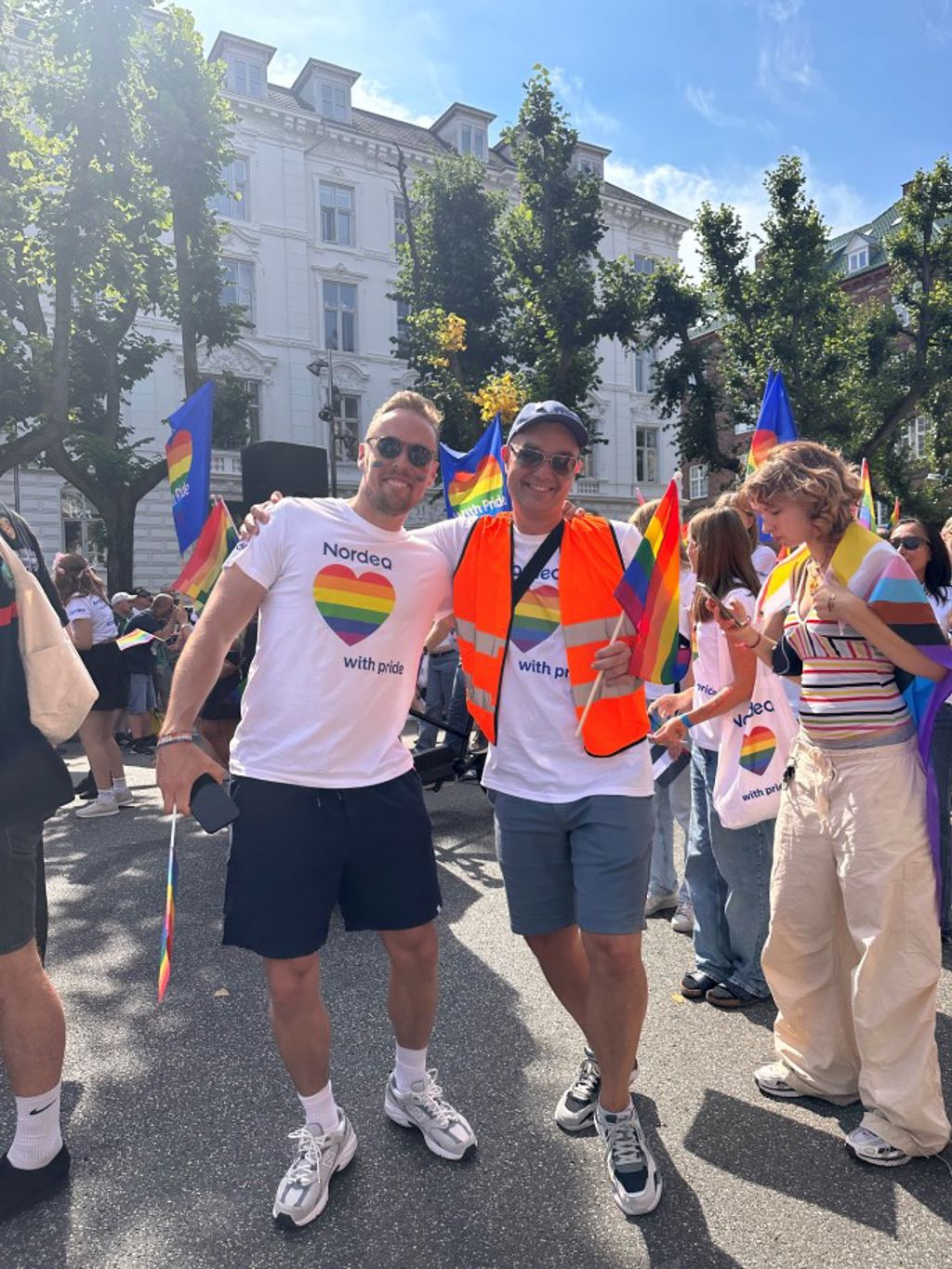 Jan Strange Lithander (to the left) and Daniel Hansen at this year's Copenhagen Pride in Nordea's part of the parade
"I was nervous and had no idea on how to approach the interview. What I should ask, what I should answer. But it was a good conversation, and it was really good and in a way brave of Daniel to bring it up," says Jan Strange Lithander.
He says that the subsequent dialogue has given him completely new insights as a leader and as a person:
"Previously, I was afraid to speak up and ask; I was nervous about addressing it as something special. Today I know that you have to dare to speak up. But most importantly, you need to listen intently."
Stereotype
Jan Strange Lithander moved in August to the position of Head of Savings Advice and thus he is no longer the manager for Daniel Hansen. The two of them managed to have good and reflective conversations about how unconscious exclusion can take place in a workplace.
Daniel Hansen gives an example of how this can happen:
"It could be, for example, that the colleagues, many of whom have small children, say to me: "Oh, you are so privileged. You don't have small children and plenty of time for yourself." It's a stereotype," he states and continues:
"I also have a daily life with everyday concerns, and things can be difficult to get going. And I have a lifestyle that is illegal in 72 countries. We also refrain from kissing each other in the street here, because people look at us strangely."
After the dialogues with Daniel Hansen, Jan Strange Lithander really wanted to give it a go with visibility in the department at Vesterbro in connection with pride this summer.
"Daniel made me aware of possible pink-washing. He said that all the other days of the year are the most important if you want real change."
Important networking
Jan Strange Lithander encouraged Daniel Hansen to become a member of Nordea's ERG – Employee Resource Group for LGBT+ people and allies (see an overview of all Nordea's ERG in the text box).
After deliberation, Daniel Hansen ended up joining the network:
"I discussed it with my husband, Mark, who asked if it was really necessary? He is a cabin manager and for some reason there are many homosexuals among the staff. But for me it is something different. I don't have many homosexuals around me in my job."
There is enough to deal with for the ERG, says Daniel Hansen. As an example, he tells what he has noticed in Nordea's brand new campaign:
"You only see two women in dark resolution for a second. You almost have to know it in advance, in order to catch it. It does not reflect what we say about our aspirations in Nordea. It could have been from the 50s."
Personal Banking Region Copenhagen and Bornholm has by the way planned a workshop on how the ERG's can become more visible in the branches, leaving it to be more less of a Copenhagen phenomenon than it is today.
Back in the closet
After all, in his 23 years as a bank employee, Daniel Hansen has experienced a positive development with a labour market that has become more inclusive.
"In 2005, for the first time in my working life, I came out to my manager at that time. Her answer was: "I have no problem with that, but you must go about things quietly in relation to your colleagues and especially the customers. They may take offense at it". Here she put me back in the closet in terms of work for three years."
When joining Nordea in 2008, he decided that he no longer wanted to hold back with whom he was dating:
"They have to take me as I am. It was one of the best decisions I've ever made. But in 2023, there are still 27 percent of LGBTQ+ people who do not dare to be open in their workplace. And that's one of the reasons why pride is important - because it sends a signal that you're ok the way you are."
To this day, it is at most two percent of his customers that Daniel Hansen feels safe enough to be open with if the conversation turns to private life.
"It's still in me from my former manager, who I'm sure was unconsciously exclusionary. Over time, it has become easier to stand up for yourself. But there is still room for improvement."
Nordea ERG – Employee Resource Group
Employee Resource Groups are voluntary, employee-led groups that aim to contribute to fostering an inclusive workplace. In Nordea in Denmark there are groups that focus on ability variation, cross-faith and beliefs, cross cultural, cross generations, gender equality, LGBTQ+ and allies and caregivers for relatives with special needs.
More info at Nordea's intranet.