I'd like to go on for at least a few more years
70-year-old Jan Zavilla is happy to commute from his home in Faaborg to Nordea Metro to do his job as a Business Developer. His work gives him so much joy that he doesn't want to stop
​
When his 70th birthday approached in January, more and more people started to ask Jan Zavilla the same question. Are you retiring now?
"Suddenly everyone was very interested in knowing this. For me my birthday didn't change anything, but just to be on the safe side I had a talk with my wife, Anne. We agreed that I could go on for at least a few more years," says the experienced Business Developer, who has worked with digital registration since early 2009. 
He hastens to add that it's of course only if he stays in good health. However, the slim and fit-looking man seems to be doing well on that front and he stays in shape by swimming and running.
"My dad worked until he was 74 years old and my 18 months younger sister also still works. So maybe you could say it runs in the family," says Jan Zavilla over a coffee in the lounge at Nordea Metro.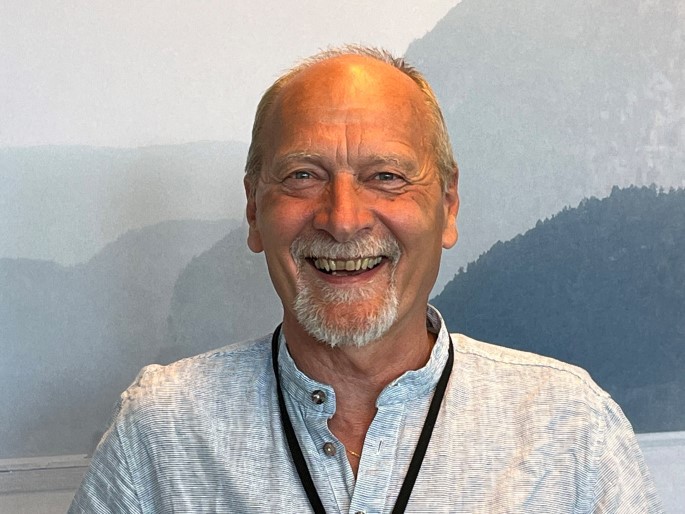 This is where he works two days a week on the third floor with his colleagues from Application Development and Data in Nordea Kredit. He works four days a week; the other two days he works from home in Faaborg. 
"When I got my current job just under five years ago, I said that it was no problem for me to go to the office every day for as long as it was needed. Now when everything is running smoothly, it works really well for me to work from home half of the time."
It means a lot to him to go into the office regularly, spend time with his colleagues and to keep busy with the work that he is highly qualified to do – and he makes sure to keep updated with relevant courses and more.
Shovelling snow as a trainee
When Jan Zavilla started as a trainee back in 1971 in Banken for Aarup og Omegn in Funen where he grew up, there was not a lot of learning going on, he says:
"I mainly did whatever odd jobs that needed to be done. I counted cash holdings and keyed in the amount manually using a hand-crank calculator – and it was not unusual to be asked to shovel snow if need be.   
At the time the standard work attire was a light blue or white shirt with a tie, and he challenged the conventions when he turned up in a suede jacket instead of a suit jacket.
"It got quite a lot of attention ..." 
Throughout his career in the banking sector, he has liked working with different customer segments and within several fields. Early on he developed an interest in computer technology, which took up about one third of his working hours, while he spent the rest of his time advising personal customers and small business customers.   
Over time and with each merger he became more and more specialised. When his workplace at the time, Fionia Bank, became part of Nordea in 2011, he became an IT Test Analyst and worked in Fredericia. 
"There were plans to close down the branch office when I started, but that had been on the drawing board for a long time, so my colleagues just said I should take it easy."
New job as a 65-year-old
But about five years ago, when Jan Zavilla was 65 years old, it happened. The Fredericia branch office was closed.
"Although I was close to retirement age, I really didn't feel like stopping. I never did. Except a period when I was consumed by being a football trainer and my job wasn't as much fun as now. Then I thought about focusing my energy there instead."
But this idea gradually faded and it had long evaporated when the opportunity to withdraw from the labour market following the closedown of the Fredericia branch office seemed a logical step. That's why he was really happy when his current leader, Kirsten Fog, hired him for the job.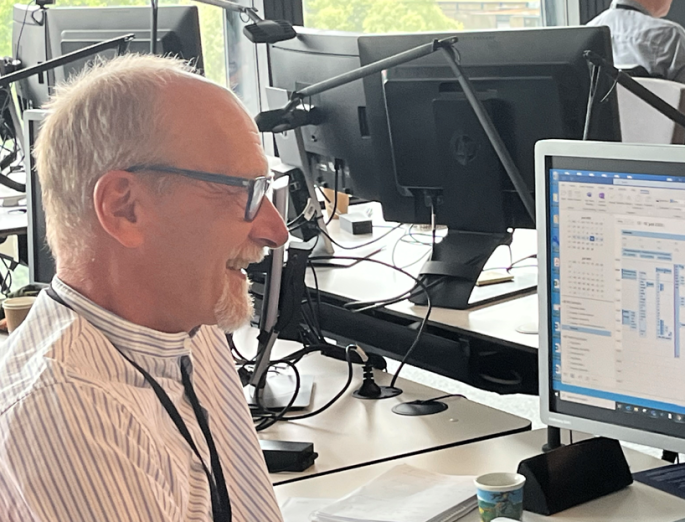 "At the time I said to Kirsten that I was keen to work for several years more. And we've since agreed that I'll let her know well in advance before I retire."
Jan Zavilla is now passing on his exclusive specialist knowledge to his closest colleague, so she can take over when it becomes necessary.
Time for everything
But retirement is clearly not just around the corner:
"I have a job that I can do to Nordea's satisfaction as well as my own. It's interesting and exciting; I have really good colleagues, who inspire me and keep me going – and not least the world's best leader. So there's no rush."
Moreover, his job is one of a kind, he explains. If he retires, there is no going back at his age, and he has seen others regret their decisions.
"Anne has taken early retirement and we have children and grandchildren. But I still find time for everything even though I'm working. I have Anne to thank for that," says the possibly oldest still working member of Finansforbundet in Nordea – who has his entire working life been a member of Finansforbundet and before that of Danske Bankfunktionærers Landsforening and Danske Sparekassefunktionærers Landsforening.