Do you have the best colleague in the world?
Not least in a time with a lot of remote work, it is important to appreciate your colleagues. Do you have a super colleague who makes the work days better, then maybe now is the time for him/her to be nominated for the Skulderklap prize?
Do you have a very special colleague? One that is always there for you and your co-workers? Someone who spreads energy, good vibes, or is full of creative and social initiatives?
Then now is your chance to acknowledge it! Nominate your colleague for 'a pat on the back' (Skulderklap) from Finansforbundet in Nordea.
When many people often work remotely, cohesion can be challenged. Therefore, it is more important than ever to show gratitude to the good colleagues you are surrounded by.
In addition to the acknowledgment and surprise, the colleague you nominate also gets breakfast with his or her team, regardless of whether he/she wins or not. And if the colleague you nominated wins - yes, then he/she will also receive a prize of DKK 5,000.
It is important that we remember to acknowledge each other - even on a busy day - because it is nice to be and feel valued. Sometimes you can miss an opportunity. Here we hope that Skulderklappet can be the reason why you put into words why your colleague is something very special.
You must be at least two colleagues who are behind the nomination - and you can, as usual, be many more (e.g. a team). You can only nominate colleagues working in Denmark.
Nominate your colleague no later than 14 October
Click here to nominate your colleague - we must have your nomination no later than Friday 14 October 2022!
The form for nominations is in both Danish and English (choose preferred language at the first page).
There are few limits, so tell us why your particular colleague deserves to be among the six members who receive a prize of DKK 5,000.
We hand out a total of six Skulderklap's, and each winner will receive a prize of 5,000 DKK.
On 5 December, we will announce the names of the six winning members.
All nominated candidates are celebrated with breakfast in their department - even if they should not be among the 6 recipients of the prize.
On 12 January 2023, the Finansforbundet in Nordea's board will hand over the prizes to the six winners.
Only colleagues who are members of Finansforbundet in Nordea are eligible for the Skulderklap prizes.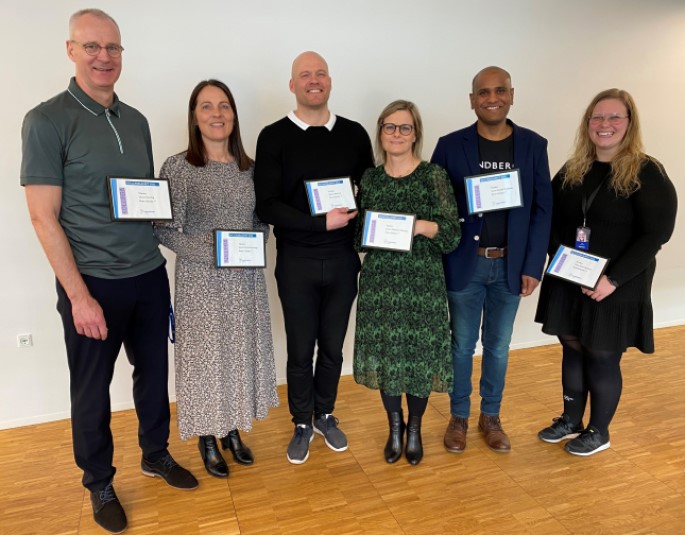 In the spring, these six super-colleagues became winners of the Skulderklap prize. Is it time for your colleague to be honoured and celebrated this time? The picture shows, from left, Claus Harring, Lone Hviid Aarestrup, Martin Bækhøj, Dorte Elisabeth Madsen, Guru Suresh Pardeshi and Stine Vestergaard with their Skulderklap diplomas.