New members magazine on its way to you
If you are a member of the Finansforbundet in Nordea, our membership magazine will land in your mailbox very soon. You can already read the magazine online here!
Find the magazine online here!
In the magazine you can read articles on many topics and as usual, the second last page is in English. In this issue it's about the importance of taking breaks – even when you're busy!
This magazine is the last we'll publish the good old fashioned way – printed and delivered to your mail box. Going forward, we'll communicate even more using our digital channels - and we has actually also published many of the articles from the magazine on Intra and our website - both in Danish and English.
As an non-native Danish speaker, the advantage for you is even more info and articles in English!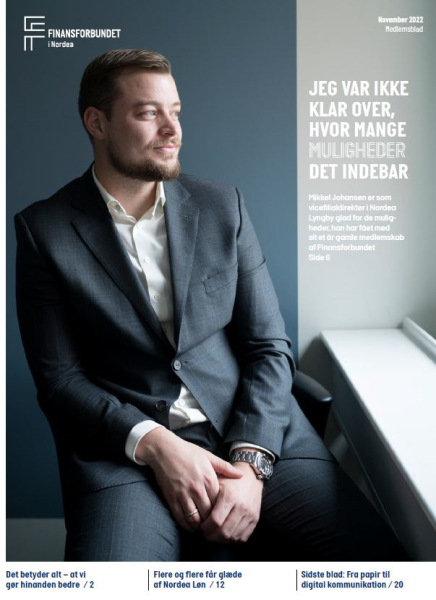 Stay updated on the digital channels
See here how you get news from the Finansforbundet in Nordea.
Subscribe to Intra news
See here how to do it (require access to Nordea Intranet).
Intranet site
You can find the Finansforbundet in Nordea's page on Intra by either searching for it or by clicking on Employee – My employment conditions - Collective agreements and people policies – Trade Unions. Or simply click here.
Homepage
You can find our website in Danish at ffinordea.dk
We have a special, English-language website: finansforbundet.dk/fin-en (that's where you are now)
Newsletters and direct mail
Log in to www.finansforbundet.dk/en - on the page 'Mit forbund' select 'Profil' - here you can update your personal information and choose which Newsletters you wish to receive.
It is important that your e-mail address is updated so that you can receive e-mails from Finansforbundet and Finansforbundet in Nordea. We send mails to the e-mail address you have registered - for some it will be your Nordea email, for others it will be your private email address
Social Media
Follow and connect with us on LinkedIn and Facebook. Then you'll get news in your social media feed when we have something on our minds. You are also very welcome to connect with our board members on LinkedIn. You will find links to all the profiles here (scroll down to the bottom).
Former members' magazines
You can find previous magazines here.
Suggestions for stories?
If you have suggestions for new stories, we would love to hear from you. Write an email to Finansforbundet in Nordea's communicator at jesper.kiby.denborg@nordea.com or the political responsible for communications at mona.svan@nordea.dk.