More and more will benefit from Nordea Salary
This year as many as 71 per cent of employees were allocated a salary increase from the individual salary pool of Nordea Salary. "That's actually more than expected," says board member Ole Lund Jensen 
​
Before the most recent round of salary negotiations in 2020 there was growing dissatisfaction among Nordea employees because only 20-25 per cent got a share of the special salary pool in Nordea's collective agreement for individual salary increases.
That's why Finansforbundet in Nordea (FiN) and Nordea's management team negotiated a new salary model. 
Nordea Salary ('Nordea Løn') is fairer and more transparent for individual employees and it means that many more will get an extra salary increase in addition to the general increase. The ambitious target was 50 per cent of all employees. So how did it go on the two occasions when Nordea Salary has been in play?
"It's gone much better than expected. Already the first year, in 2021, 65.3 per cent was allocated a share of the individual part of the salary pool, and in 2022 this figure has grown to 71 per cent. So that part of the agreement has been a success," says Ole Lund Jensen, who as a long-standing FiN board member participates in negotiating Nordea's collective agreement.  
Nordea Salary doesn't solve everything
But as Ole Lund Jensen also explains it means that each employee has received a little less as there is only the same pool to go round. 
"It may have given rise to some disappointment with employees who feel they have delivered extraordinary results. On the other hand, there is a much better opportunity to be allocated a share of the pool every year and in that way get a more continuous salary development.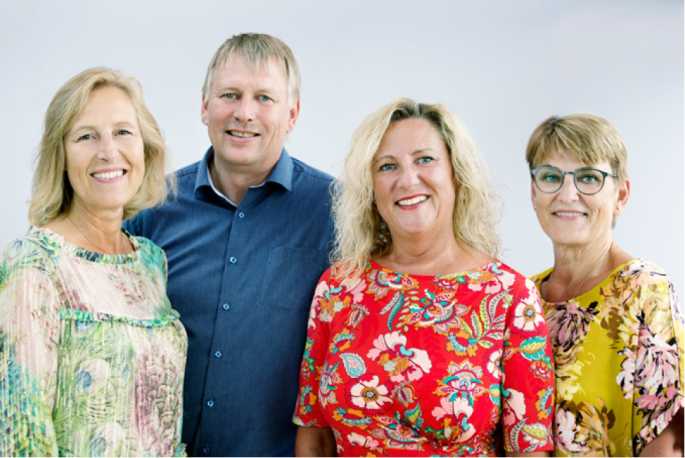 "All along there has been good support for the model from both management and employees. That's why I feel convinced that Nordea Salary is here to stay," says Ole Lund Jensen. Here he is with the rest of FiN's team of negotiators when Nordea's collective agreement 2020-2023 was finalised. From the left President Dorrit Brandt, Vice President Mette Balck Mejlby and consultant Charlotte Hansen.
It's important to understand that the funds in the Nordea Salary model are part of the negotiated collective agreement. The model was not designed to enable payout of bonuses or meet extraordinary salary expectations or big leaps from one level to the next.  It's still up to the individual employee to have a dialogue with their leader about the chance of a salary increase. If so, Nordea must find the means elsewhere than in the collective salary pool. 
A big change
Nordea Salary makes up about one fourth of the total annual pool for salary increases and allocations are based on the annual PLD with your leader. But as this salary increase is part of the overall increase, you cannot see from your pay slip how much you were allocated from Nordea Salary. And as the PLDs take place from November to end-February and the salary increase does not become effective until July, it may be difficult for some to see the connection, says Ole Lund Jensen, who understands if things seem a bit complicated:
"Although the old salary model had been in use for 20 years and become somewhat outdated, it's a big change to suddenly get a brand new one. In our opinion, we did a lot to ensure a smooth implementation, but in hindsight we should probably have communicated even more – especially the first year. Leaders and employees needed to understand and get used to the new model."
He believes that things are moving in the right direction and that dialogues this year have been more constructive – there is a greater understanding of how the model works and should be used:
"I also think there is a general feeling that Nordea Salary has made things more transparent. And if you've performed as expected, it's no longer possible for your leader to say there is no money and put off a salary increase to the coming year," says Ole Lund Jensen. He underlines that the communication about the salary model will continue, not least because new employees and leaders join Nordea on an ongoing basis.
Nordea Salary has passed the test
At the moment and over the next few months PLDs are held between employees and leaders just like normal. But contrary to the past two years, it's not yet possible to quantify salary increases. That depends on the outcome of the negotiations on the standard collective agreement in 2023. When they are concluded, the negotiations on Nordea's collective agreement will start – probably in March and ending sometime in May.
"That's why it's far too soon to predict anything about where we'll end up with Nordea Salary in 2023. But all along there has been good support for the model from both management and employees. That's why I feel convinced that Nordea Salary is here to stay," rounds off Ole Lund Jensen.
​
Nordea Salary ('Nordea Løn')
Nordea Salary allocations are based on the year-end PLD where the employee and leader have a dialogue about target fulfilment over the past year – typically in Q1. The conclusion will then provide the basis for the salary dialogue – which will translate into the actual salary adjustment. 
The purpose of Nordea Salary is 'to create an open and transparent salary structure where the salary of the individual employee can be justified in relation to responsibility, job complexity, competencies, performance, compliance with corporate values and market level in terms of salaries.'
Nordea Salary pool:
2021: 0.65 per cent of the general increase of 2.30 per cent
2022: 0.65 per cent of the general increase of 2.30 per cent
See the Intra page about Nordea Salary.

How to get the most out of your PLD
Prepare thoroughly for your year-end PLD: 
My goals: what has worked well – what did I do?
What has not worked as well – what did I learn?
How did I contribute to common goals – team/colleagues? 
What are my strong points – and where could I improve? And how?