Crucial to help and support each other
The courage to ask for help and the willingness to share your experience mean everything for your personal development, job satisfaction and peace of mind. It's good for the customers and it's good for the bank, according to Signe Ulsøe and Leif Korsholm, advisers at Nordea Copenhagen North
​
It's not only on television that the crisis is taking its toll with rising prices of everything. Except for house prices and equities, which are in free fall.  This has created concern and worry among the customers and they need both empathy and understanding, says 67-year-old Leif Korsholm, who started his career at Andelsbanken in Roskilde on 1 August 1973 wearing his best, crisply ironed white shirt and has since followed the bank through all mergers both as branch manager and adviser before ending up at Nordea Copenhagen North.
"We're in the midst of a crisis unprecedented since World War II.  I've never before in my career experienced so much negativity in such a short time.  War, economic downturn, inflation and a future that is uncertain for all of us.  It's really a difficult landscape to navigate as an adviser.  Especially for young advisers who have never before helped customers switch their mortgage loans into a higher interest rate, and where it's easy to get things wrong," he says.
Nobody should struggle alone
This is something that 24-year-old Signe Ulsøe can relate to. After graduating she has worked for Nordea for just over three years – in 2020 she become a personal banking adviser and was thrown right into the crisis.
"The customers are worried and concerned so they need a bit more hand-holding and reassurance.  I have elderly customers who are worried whether they can afford to stay in their homes and young families who bought when prices were high and whose finances are now very tight," she says, adding that she also once sat across a young couple where one of them broke down crying:
"They had just bought a house and now they were suddenly getting a divorce. I hadn't seen that coming at all. It threw me a bit and would have stayed on my mind for the rest of the day if I hadn't talked about the situation with some of my colleagues."
This willingness to reach out to each other as colleagues is maybe the reason why there is not even a hint of a doomsday atmosphere at the meeting room at Bernstorffsvej 154 in Hellerup north of Copenhagen. 

Colleagues help and support each other across generations at Nordea Copenhagen North where Signe Ulsøe and Leif Korsholm work as advisers.
Signe and Leif exchange smiles and laughter and it's clear that these two respect and like each other.  
The branch office has a culture where it's always okay to reach out to each other if you need help and support.   
Formally, this is done at three weekly pitstop meetings where they share positive stories and good ideas with each other, "co-meetings" with customers where one adviser soaks up knowledge from the other one and meeting preparation with coaching, but also – which is most often the case – on an informal basis according to need.
 
"We're only human and we're all affected when customers are hit by a crisis in one way or another. It can be difficult to put aside and then it's good to have a talk about the situation or a discussion before a meeting about how to tackle things," says Leif. 
Developing together
For Leif coaching and sparring are quite natural. It's second nature for him from his time as branch manager. He is happy to do it and that's something that Signe appreciates.   She points out that Leif and other colleagues at the branch office quickly volunteered their help when Signe first had to try her hand at remortgaging into a higher interest rate.
"This sparring has really given me a lot; I can now reassure the customers, saying to them that remortgaging into a higher interest rate is the price of sleeping well at night." Leif interrupts with a big smile: 
"This is precisely an example of how Signe manages to translate something complicated for the customers into something they understand. That's not something you're born with.  It's something that you learn from others. But my sparring is not one-sided. I soak up knowledge all the time too when I hear young colleagues use good expressions or advanced techniques – and in this case it's allowed to steal good ideas," he says with a smile.
I'm proud to be asked
But when you're young and newly qualified, you want to show the whole world everything you've learned and know how to do – is it not a weakness to ask and thereby expose your ignorance?
"Of course, it may feel like a struggle to overcome your own barriers when you ask for help for the first time in a new team.   You need courage to be vulnerable and to freely admit that you don't know certain things.  I have no problems with that. I learned from home that if you don't ask, you don't get smarter. As Leif didn't laugh at me the first time, I was encouraged to ask again – also about things I'd asked about before but forgotten," says Signe, adding that it's maybe easier for her because she is very outgoing.
"But if you're more introverted by nature, young and newly qualified, you can start out easy by asking somebody that you trust and feel comfortable with. That's another good thing about working at Nordea. We're supported via training where we're boosted and work on inner values.
According to Leif it's also important that the person asking remembers that it's often in no way seen as a weakness.
"I don't think that way at all.  I actually feel a bit proud when somebody asks me about things. It shows that they trust me and have confidence in my knowledge."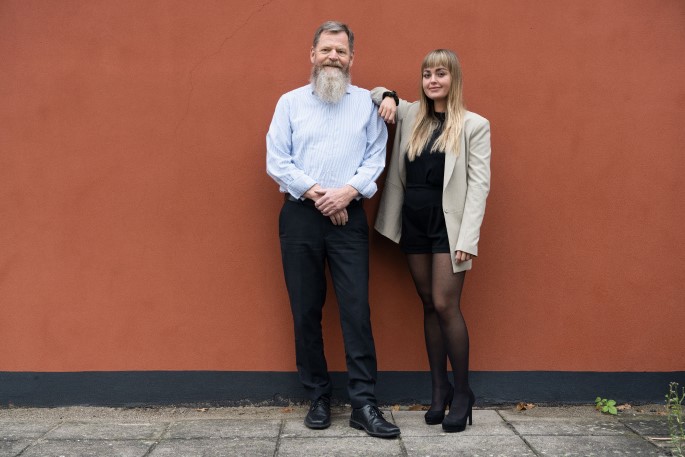 Crucial for job satisfaction
Signe and Leif both emphasise how important it is that their branch office has a manager who encourages them to reach out and that the time helping each other is well spent.
What does it mean for you personally?
"It wouldn't be much fun getting up in the morning to a difficult case where you couldn't get help, so it means everything for your personal development, job satisfaction and peace of mind.  We feel better when we share what's on our minds and we feel more like going to work," says Signe, while Leif nods eagerly and adds:
"Although it's sometimes difficult to find time in our busy everyday work schedules, feedback, sparring and exchange of experience is SO important. We develop as a team and get better together. Better as advisers for our customers, who gain more trust in us and become more comfortable using us and the bank. And it also leads to better sales results. So it's good for job satisfaction and well-being and also good for the bank.