Results through cooperation
President Dorrit Brandt and vice president Mette Balck Mejlby's annual report for Finansforbundet in Nordea

A summary of the annual report from Finansforbundet in Nordea.
See the full annual report in Danish here
"2020 has been a particularly challenging year for all of us, and it has also been an extraordinary year of development, in which we had to consider new solutions when it comes to the way we work and the way we communicate. Using Teams the union board has met with union representatives and members in new ways", says Dorrit Brandt, president of Finansforbundet in Nordea.
Combine the best to ensure flexibility on the long run
During the summer, the union conducted a survey among its members, at the direct request from the bank's management, about how working from home last spring was experienced.
"Amongst the conclusions were that employees generally experienced greater trust from their manager. Many also enjoyed the flexibility in being able to work from home. So, at that time, the general well-being among employees was good," says vice president Mette Balck Mejlby.
"But now we are somewhere else (early February, ed.). Now, most employees are forced to stay home, and many are tired and miss social contact with colleagues and managers. We will definitely never come back to how it used to be. But when the society opens up again, we must combine the best from before the pandemic with the best from the current situation", says Mette Balck Mejlby.
Since the presidency was elected in 2019, it has been a strategic goal to build up relationships at all levels and to expand them.
"Through relationships, cooperation arises, and cooperation leads to results. With a good relationship, it is actually also easier to express ones disagreement", says Dorrit Brandt.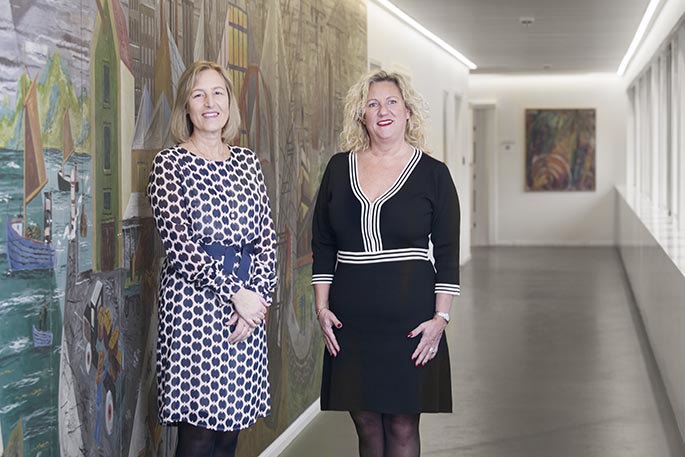 Since Dorrit Brandt (to the left) and Mette Balck Mejlby got elected as president and vice president in 2019, it has been a goal for them to build relations on all levels. They are now reaping the benefits. Photo: Nana Reimers.
Succeeded in lowering the number
Finansforbundet in Nordea strongly disagrees with Nordea's decisions of outsourcing essential parts of the IT set-up.
"Thousands of years of experience will be thrown away, and good colleagues will see their jobs go to a low-wage country with unknown working conditions - all in the holy name of cost savings. We have succeeded in lowering the number of lay-offs, and now our focus is to ensure the best conditions for those affected and assist them in taking the next step in their career".
The outsourcing is just one out of many initiatives from Nordea lowering the number of employees – it went down by 950 in 2020 alone.
"We are fighting for Nordea to bring focus on more initiatives that can increase earnings, instead of constantly looking at cost savings," emphasizes Dorrit Brandt.