The past year has radically changed the way we work. Now we are slowly returning to the office. But what habits, conditions and experiences are we taking with us - and how do we ensure the best possible conditions for a continued flexible work life? You can find knowledge and good tips about this here.

Welcome to new ways of working
"WE SHOULD USE THE EXPERIENCE TO DESIGN A BETTER WORK LIFE FOR INDIVIDUALS AND OUR WORK COMMUNITIES."
- Michael Budolfsen, Vice-President of Finansforbundet
We will help you along the way
Want to achieve better job satisfaction?
Do you have any job satisfaction challenges you need to talk about? If you prefer an independent person outside your company, you can book a free job satisfaction meeting with a consultant at Finansforbundet.
Book a meeting
The flexible work life in focus
How can we improve mental health in the digital work life of the future?
Follow the project 'Future Work Lab', where Finansforbundet together with a number of other companies and researchers investigate the digital work life of the future.
Read more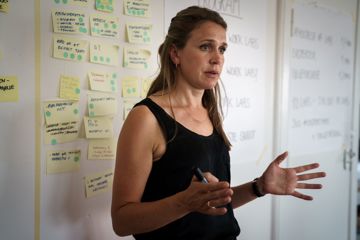 We would love to hear from you
Do you have a good idea for how we can improve job satisfaction in the flexible work life together?
Submit your idea here