Kevin: "You have to feel that you do have the freedom to develop"
Ample development opportunities, support from the manager and a flexible calendar are the main reasons why 26-year-old Kevin Andersson thrives in his job at Nykredit.
Kevin Andersson was a recent Master's graduate in Economics and Business Administration when he was hired by Nykredit Erhverv as a sustainability specialist a year ago.

In this role, he stays updated on regulations and requirements and creates methods and models for assessing sustainability in the credit area; it's a job involving a lot of independence as well as collaboration.

How were you introduced to the job and your colleagues?

"On the first day, the whole department was invited to have breakfast together, and later I booked one-on-one interviews with my closest 10-15 colleagues. This is standard procedure and works super well.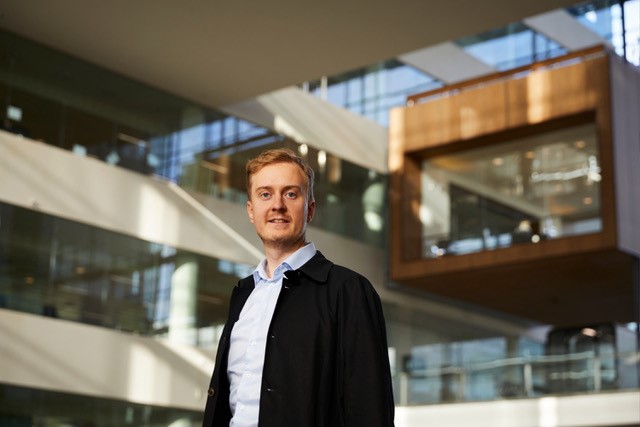 Photo: Jasper Carlberg
If the weather was good, we went on a walk-and-talk. I got to know each colleague both professionally and privately and built a base to work from. Such a start is important. In that way, I have built a bridge to the others that makes it easier to ask questions.

My introduction to the professional part of the job was a folder with a lot of documents that I had to read to obtain a basic understanding.

I didn't have to follow a certain person or learn any 'we usually do this' routines, because my job is very much about becoming wiser and doing things in new ways."

What is important for you to thrive in your job?
"It's so nice to work here because I have the freedom to do the things I want. I plan which projects I want to participate in and which skills I want to develop.

I get great support from my manager. As an example, I wanted to get better at presenting. I told my manager about it, and she looked for ideal opportunities for this.

It's important for me to have a manager who supports me. My development must be a priority. I put a lot of emphasis on that when I got the job."

How do you avoid overcrowding your calendar?

"My calendar may look chaotic, but that's my own doing. It is exciting to come to work, knowing I have chosen the projects myself and can leave my mark on them. I fill up my plate with many things so I can only blame myself when I have to work in the evening.

I want to be part of everything, so I'm trying to be better at prioritising. In this respect, too, my manager truly supports me. We have a weekly meeting, and if I have a busy calendar, I ask her to help me rank my tasks. We then make a plan together."
"Lack of focus on development is a recurring topic when I hear about young people in this sector who are unhappy in their jobs."
- Kevin Andersson, sustainability specialist at Nykredit Erhverv
Does it matter to you to be able to work flexibly and alternate between working remotely and working in the office?

"In the beginning, it was important to me, but I don't use it as much any longer. I have a lot of meetings, so it's convenient for me to be at the office. Sometimes I stay at home to work if, for example, I have to finish a report.

We have flexibility with no limits, but we try to be at the office on Mondays, whenever possible. It means more to others than to me. I don't have that much of a need for collegial contact because I collaborate with many different people across the company.

Knowing that flexibility exists, that's important to me. It's convenient to be able to work somewhere else for a few days – for example, at my girlfriend's family in Stockholm."
How do you balance work and leisure time?
"My balance is at a level that suits me very well: At times, I work a lot and save up a number of hours which enable me to take a few days off. I like to look forward to long weekends – preferably with trips to big cities in Europe.

During the week, my girlfriend and I try to time it so that we leave work at the same time. She works nearby. Sometimes we walk home instead of cycling. In that way, we have a few hours a week where we just enjoy ourselves and relax, while walking.

I don't feel I've been forced to stop doing something in my personal life because of my job. It's important to me to make plans for my time off – therefore, my calendar is full of interesting plans. In addition, I enjoy going for walks and reading a lot of books when I'm off work."

What are your thoughts on a long-term working life?

"I'll take it bit by bit. I'm going full speed now and want to keep doing what I do for a long time. But I don't see myself in the same role in five years' time. My generation is much more into changes – both in terms of companies and roles. I would like to stay in the company if it offers development opportunities."
Do you have any suggestions for how to improve the well-being of junior employees in the financial sector?
"I know of others who find new jobs because they need development. Lack of focus on development is a recurring topic when I hear about young people in this sector who are unhappy in their jobs. You have to feel that you're accomplishing something and have the freedom to develop."
Mental health and well-being
How do we protect our mental health and well-being when our work life is under constant change? And what learnings and initiatives should we make use of to ensure both fellowship and flexibility? Learn and get inspired here.
Read more