Oggy the dog comes to work with Carsten at the bank every day
Carsten Bahs' autism poses a challenge to him when meeting other people, but when he brings his dog to work, he feels safe. Until last year, this was not a possibility, but a new bank policy has now changed that.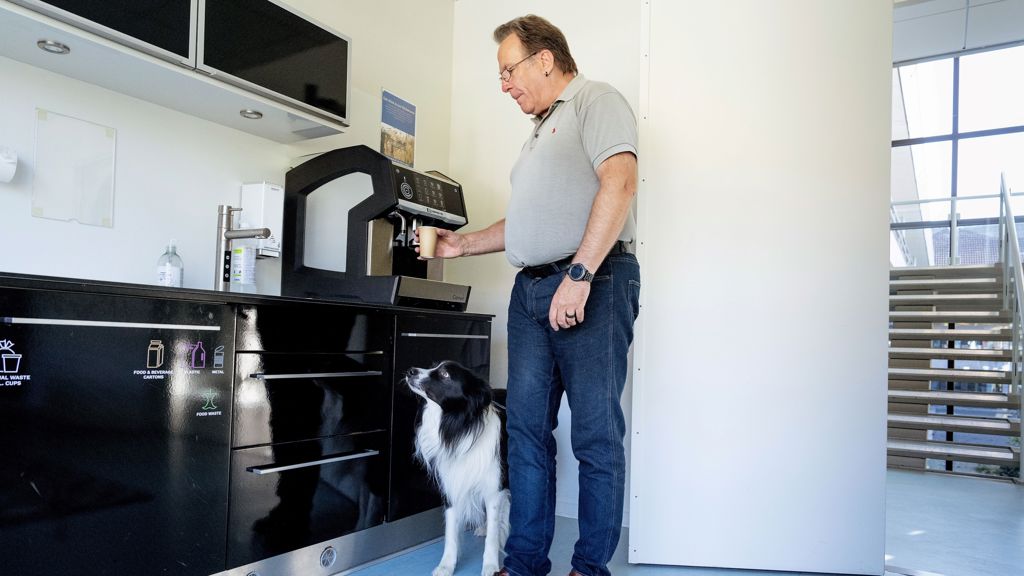 Oggy accompanies Carsten Bahs when he gets coffee or goes to the canteen. Photo: Claus Bech
"Oggy makes me feel safe. If I didn't have him, I wouldn't be able to talk to strangers or colleagues I don't know very well."
- Carsten Bahs, IT developer at Nordea
Diagnosis was an eye-opener
Carsten Bahs was not diagnosed with autism spectrum disorder until he was 61. He had always known that he was different somehow, and the diagnosis was a real eye-opener.

"I realised that I wasn't that odd after all," he says and emphasises that he is not restricted in his working life.

"I take things at face value. And I'm good at solving problems because I compartmentalise things and conclude that either we do it this way or we don't do it. And that's primarily how IT systems work," he explains.

On the other hand, he does not know how to talk about the weather or bringing up children.
"I don't know how to small talk or read between the lines. Forget it," he says, explaining that, generally, he has a bit of a hard time with other people.

And Oggy can feel that. For example, when Carsten Bahs talks to people he does not know, Oggy immediately detects that he becomes anxious and moves close to him.

"He feels it for me. I may not be aware of it myself. He just responds to my signals," says Carsten Bahs, who has had Oggy for seven years.

However, Oggy was not trained as an assistance dog until bringing him to work became an option.