Nykredit: "We Leave Less to Chance"
Nykredit applies a systematic approach to achieve a more balanced gender representation among its managers. We must maintain a framework and culture that encourage more women to consider a career in leadership, says Trine Ahrenkiel, Head of HR, Communications & Marketing.
Nykredit has a goal of achieving 45% female managers by 2030 – and a long-term goal of attaining gender equality in its management.
Currently, one out of three of Nykredit's managers are women.
"To reach the goal, concrete measures are required across Nykredit. We must work visibly, actively and determinedly – and leave less to chance," maintains Trine Ahrenkiel, Head of HR, Communications & Marketing at Nykredit.
Nykredit is therefore in the process of establishing a framework that is both natural and systematic in which to discuss development.  
"We will go from having talent programmes for the few to creating possibilities that everyone can consider. We will systematically ask each employee about their motivation and make it possible to produce the skills and experience needed – and then we will follow up on that," explains the HR manager. 
Some you have to ask one more time
Inge Sand, President of Finansforbundet i Nykredit, appreciates the initiative:
"It is extremely important that workplaces do something to create opportunities," she says and is delighted that the management's focus is to find and develop the future's leadership talents from within the organisation.
"It's a good thing that we spot more talents and support them in the direction of a management position. It is important to be seen and challenged. I have been in the business for many years and have never been encouraged to choose a career in leadership. I'm a manager today, but wonder why I wasn't pushed in this direction," she adds.
Over the years, the branch president has seen several examples of skilful and ambitious female colleagues having declined when the conversation turned to a possible management position. Perhaps, they were working in the private field and had no desire to switch to the business or agricultural fields to build the knowledge needed to manage a centre. 
"Some might need to be asked one more time. Or need training and visible role models to lean on", she points out.
That is our responsibility, says Trine Ahrenkiel:
"It is important that we establish a framework that will make more people choose a career in leadership. This can be initiated by both managers and employees – and we also need to highlight the possibility of putting yourself out there. We need to move towards one another."
That is why Nykredit has introduced regular performance interviews and 'will and can' interviews that employees can ask for at any time to put their profile into play and be guided by the manager.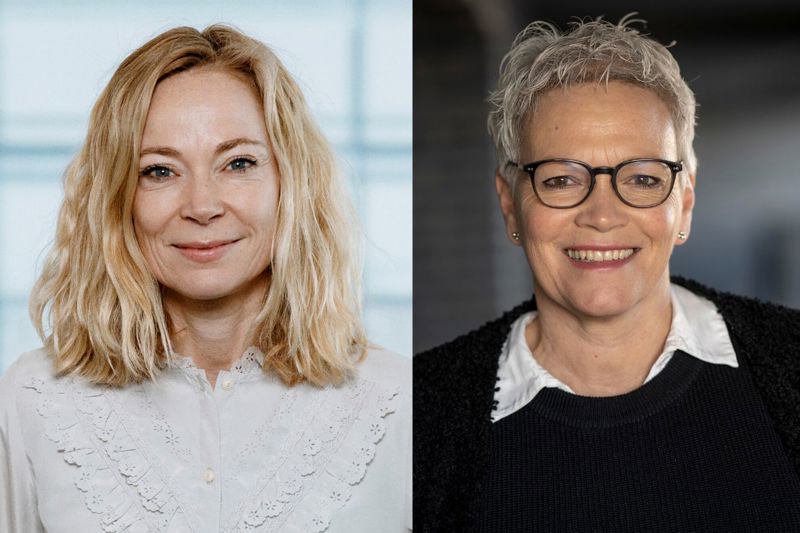 Structure and culture are connected
If we are to shift the gender balance, it is important to work with both structure and culture. You cannot do the one without the other, stresses the Head of HR, who would rather work with a few structured long-term initiatives than a mixed battery of small activities.
In recent years, all managers at Nykredit have been trained in understanding diversity and inclusion. Some of this training took place in a virtual bank with exercises that make it clear that diversity matters, and that it is important that we do not look the same.
"Yes, diversity is important. It is not about management positions being filled by women alone. We have good examples of strong leadership teams with one of each gender," adds Inge Sand.
And admittedly, many – both men and women – did respond when Nykredit presented its goals to the employees. Are men now banned from management positions?
"This is a real concern, and it is good that it is being voiced so we can talk about it. The point is that we are trying to attain a greater balance – not to elect people at the expense of others. It is important that everyone feels they have fair and equal chances of being considered," emphasises Tine Ahrenkiel.
A goodbye to stereotyped career thinking
She wants to take some taboos out of the understanding that career can only head in one direction.
"Development can also be going from being a manager to being a specialist. We have to break with stereotyped career views and instead take the perspective of a long professional life where you can evolve in different directions."
Nykredit provides equal maternity/paternity leave for men and women, and that is also going to make a difference for equality in the long term, predicts Inge Sand.
Nykredit's offer to mothers as well as fathers/co-parents of 26 weeks of paid maternity/paternity leave takes the financial aspect out of the equation when families have to decide how to distribute the leave between them.   
It is important that employees on maternity/paternity leave don't disappear from the employer's sight, finds Trine Ahrenkiel.
"The manager has to maintain contact with the employee before, during and after the leave – and especially when returning to work. We shouldn't pay false consideration to employees. We need to ask employees on maternity/paternity leave: Where are you? Several of our female colleagues have come back from maternity leave, starting directly in a management position. Maternity/paternity leave is both about equality and systematics, so that we don't lose colleagues with leadership ambitions," she points out.
Positions of trust attract women
Whereas women are underrepresented among managers in the financial sector, it is a different scenario among many elected representatives, for example, at Nykredit, two out of three union representatives are women.
"The tasks of union representatives share elements with management. We have to defend decisions, and a good union representative will often support their manager in making a department work. Some union representatives decide later on to become leaders on their own initiative. But why does the role as union representative seem safer for women – surely you can apply this to something," is the encouragement from Inge Sand to the group management team.
"This is something that puzzles us both. There is no doubt that this role has something that we can learn from," finishes Trine Ahrenkiel.