Do you know what kind of person you want to be in the digital future?
The virtual world wave is slowly but surely washing ashore in many places. The Metaverse in particular will change the way we are as customers and employees, predicts an expert. And this places new demands on the financial sector.
While many Danes and people in the rest of the world were locked up in their own homes during the COVID pandemic, Nina Bech Stage went sightseeing in Japan. Here she walked around, absorbing a new country, its culture and its inhabitants.

She, moreover, went hiking on Mount Everest, where, in her own words, she had some "very fine experiences".

But it was only Nina Bech Stage's eyes that went to Japan and mountain climbing. Physically, her body was at home in Aarhus, which is where she lives and works at Innovation Lab.
It is an organism helping its customers look into the future and deal with what in modern English is called "transformation".

In this context, it covers the customer's development into being a more sustainable business with an innovative culture and digital opportunities.

The reason why only Nina Bech Stage's eyes went travelling was not great BBC broadcasts on TV: It was thanks to her virtual reality headset. When she put them on, she could go wherever she wanted.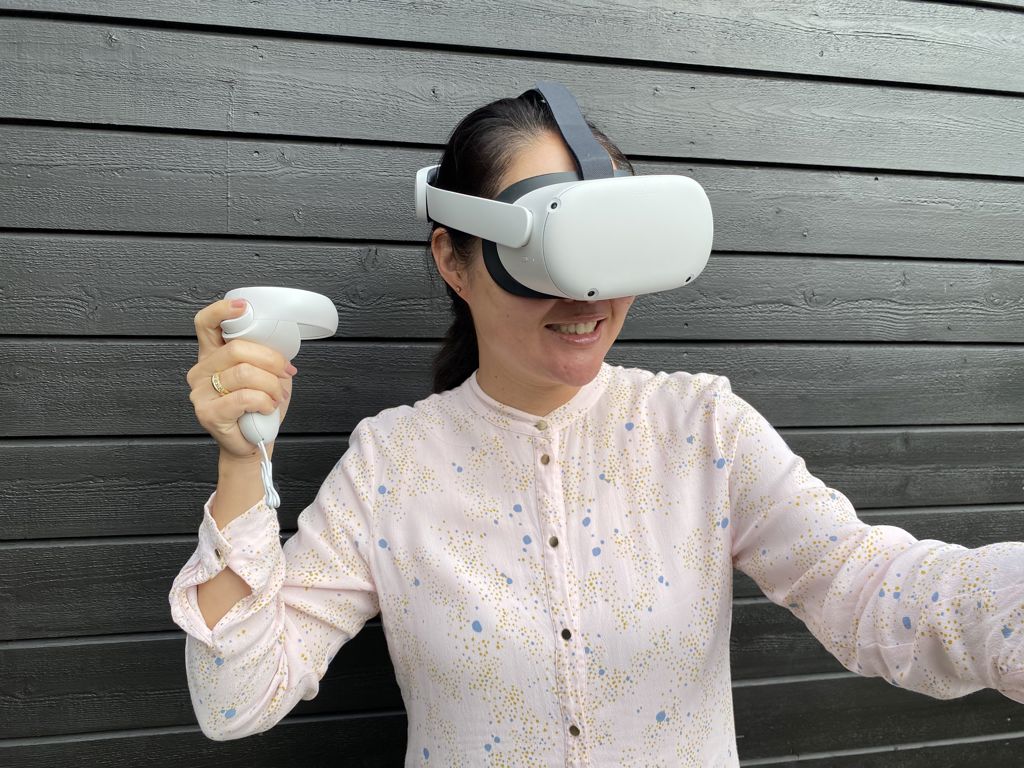 "I don't have that many friends who wear headsets like that, so I travelled alone. These days, I use them maybe once a month, but, during the pandemic, I used them a lot. I usually travel a lot and needed experiences, and that way I was able to go," she says.


Great virtual possibilities
Nina Bech Stage's VR headset is linked to her work, which in short is about improving people's digital understanding in an increasingly digital world, where development is racing ahead, but where it can be difficult to see how to keep up.

And whether it even makes sense to keep up.

One of the things she has spent a lot of time on in the past year is the so-called Metaverse.
Simply put, the Metaverse consists of the computer game Sims, where you control yourself, your own family, build the family house, have a job and hobbies mixed with the unsuccessful Second Life, which had a short and tumultuous life 10-15 years ago. Then you add Teams, which most Danes right from the youngest school classes to the boardrooms have come to know in recent years.
Facts about the Metaverse


The Metaverse is not a physical place or device platform. It is an abstract virtual reality where people meet to interact in a 3D real time world. In order to be able to act in the virtual world, you need a virtual reality headset (VR headset) that enables you to see, talk and move around.
Through different platforms, businesses can create a world themselves – for example, a meeting room – and allow people to access it. Businesses like Decentraland also have such a platform.
Concurrently, people have to create a character they want to be in the virtual world. What they design is called an avatar. Also in this context, you will find various firms through which you can create your avatar for the virtual world.
No one "owns" the Metaverse, and there isn't one, common entry point. You enter via existing platforms such as Second Life, gaming platforms such as Roblox, World of Warcraft or social media, which via, for example, a VR headset, provide the opportunity to meet.
The company Meta, which until the end of 2021 was called Facebook, plans to create a world where users can move around as avatars.
The Metaverse is a virtual reality where companies can create a true copy of management's offices and meeting rooms, and their employees from all over the globe can make their own characters – an avatar – to meet up in familiar surroundings and see each other at meetings through a VR headset.

"The Metaverse is an obvious part of the digital transformation that many companies are going through right now. It was launched a year ago because of COVID, during which people got used to and improved their skills in using the computer screen to be online. It has yet to become as widespread as Teams, because it requires a VR headset and a new way of seeing things, but it is on its way in many large, international companies. They have discovered that they can save time and travel – and thus become more sustainable – while their employees have better meetings than those held at a screen," Nina Bech Stage explains.

It is, nonetheless, still far from normal:

"170 million people have a VR headset, but only 28 per cent of them use it on a daily basis. So it doesn't enjoy the same status as the mobile or PC yet," she adds.
Two worlds, two lives
But even though the Metaverse is still in its development phase, it's more than fancy meeting forms, and the avatar is more than fun pixels on a screen.

Some businesses, such as fashion houses, are, for example, creating their own virtual shops, where, as your avatar wearing your VR headset, you visit as a customer and buy virtual products for your avatar and your virtual life.

Customers have two lives to live, so to speak: One in the real world and one in the virtual world.
"They are willing to invest millions, and that requires advice."
- Nina Bech Stage, Innovation Lab
The avatar can look any way you like. It may wear fashionable clothes, expensive jewellery, have a cellar full of expensive wine or art – known as a non-fungible tokens, NFTs – hanging on the walls of its virtual residence.

An NFT is unique and cannot be copied. Both the work or art and its purchase are registered on a blockchain to guarantee authenticity and ownership. Despite it being a virtual work or art, the value may go up and down, and the owner may sell it.

The common denominator is that no one will ever be able to physically touch or feel the items, because they have been purchased with (real) money in the virtual world to make you – your avatar – into a real person with a real life, real interests and status symbols.

"The Metaverse isn't just for gamers. It's a growing market where many people enjoy experiences and services they're not able to get in the real world. For example, when they visit shops and are introduced to something that is personal and relevant. It's moving fast now, and we see the digital development having gained considerable momentum due to COVID."
"Would you have bought as much online or used as many digital options ten years ago as you do today? That's the development we are currently undergoing."
- Nina Bech Stage, Innovation Lab
"Studies show that the things you own in the digital universe will be just as valuable to you. We see this especially in young people who already have a virtual life and do not in the same way appreciate physical things. We also see the development in ourselves: Would you have bought as much online or used as many digital options ten years ago as you do today? That's the development we are currently undergoing," Nina Bech Stage says.
New demand imposes new requirements
And this development lays down requirements on the financial sector, she explains, because in addition to being an employee yourself, who must act in new, digital ways, you must also be able to advise customers who want to spend money on 'themselves' in the virtual world. Companies will have the possibility of inviting customers to events in completely different ways than today.

In terms of business, this requires knowledge about the ways in which you can invest in digital items. The financial world must be equipped to advise on NFTs and ensure that good decisions are made. Being able to assess what is safe and what has a future requires that you familiarise yourself with the area in the same way you would any other area of the physical world.

"We already see people with lots of money who want to make those investments, and that will increase in the years to come. They want to invest millions, and that requires financial advice," explains Nina Bech Stage.