International network kicks off – and you are invited
More and more employees in the financial sector have an international background. Still many feel like outsiders – both at the workplace and in general – because they lack a network of like-minded people in Denmark.
That's why Network of International Members in Finansforbundet (NIM) was established in September 2020. NIM has a LinkedIn group with approximately 450 members and has run several events – due to COVID all virtual so far.
Presentation on working in Denmark followed by networking
"We look very much forward to kicking off our network officially on 8 September, hosting our first physical event," says Kalina Boyanova Guldberg from NIM Steering committee. Kalina is Project Manager in Danske Bank, originally from Bulgaria and has lived in Denmark for the last 7 years.
The kick-off event will take place at Finansforbundet in Christianshavn in Copenhagen. At the event, author and consultant Kay Mellish, well-known for her many books about being an expat in Denmark, will talk about "Learn about the Danish Work Culture". After the presentation there will be plenty of time for networking in a fun and constructive way over a glass of wine and some tapas.
Internationals lack a strong network
Rachel Browning is Senior Client Relationship Manager in Nasdaq, coming from South Africa before she moved to Denmark four years ago. She is also a member of NIM's steering committee and sees a clear need for the new network:
"There is a distinct disadvantage of not having a strong network as an expat. You need that to be able to address concerns and maybe push the right buttons. It takes years to build up trust and inside knowledge in your professional arena. It's a very small country so it feels like everyone does know and rely on each other. I hope NIM can help to accelerate the process of building strong networks."
The strong impact of the unions is also usually something new for many internationals coming to Denmark.
"The unions support and help the members. It is well-known to be one of the strengths of working in Denmark that the union culture is strong. Thanks to the unions and employers, the working conditions are amazing. But without having our needs heard as internationals, it's more difficult to truly enjoy the benefits of being in a union," Rachel Browning says.
Community for international members
During the last three years Finansforbundet has developed activities in English. However, many of Finansforbundet's events are in Danish and targeted at Danish members.
"With the NIM network we are creating a community and space for Finansforbundet's international members. Our ambition is to run activities that are members' driven and targeted at internationals. The network can also be used to bring important perspectives from the international members directly to Finansforbundet. This can influence the creation of more relevant union offers for the internationals," Kalina Boyanova Guldberg says.
Rachel Browning and Kalina Boyanova Guldberg both encourage international members to join NIM to get new social and professional networking possibilities, access to interesting events and influence. Rachel Browning says:
"There are only few such well-funded, organized and professional events specifically targeted at internationals that are driven by internationals themselves."
More events are in scope. The activities in the network are members' driven so it will be possible for you to co-create and co-facilitate future events.
Sector becoming more diverse and inclusive
The number of expats and other internationals in the financial sector in Denmark is growing fast. As Kalina Boyanova Guldberg says:
"The financial sector is becoming more diverse, and it is working towards being more inclusive. Today, many companies within the financial sector are actively recruiting international employees, and using English as their corporate language. Thus, it makes sense for Finansforbundet to look in the same direction and tailor more activities for this target group. We are happy to invite members with diverse backgrounds and experience in NIM and in Finansforbundet."
Meet other internationals at the kick-off event 8 September
Kay Mellish will talk about "Learn about the Danish Work Culture". Meet like-minded people who are looking for a social and professional network to promote success in their working life.
Sign up for the kick-off event here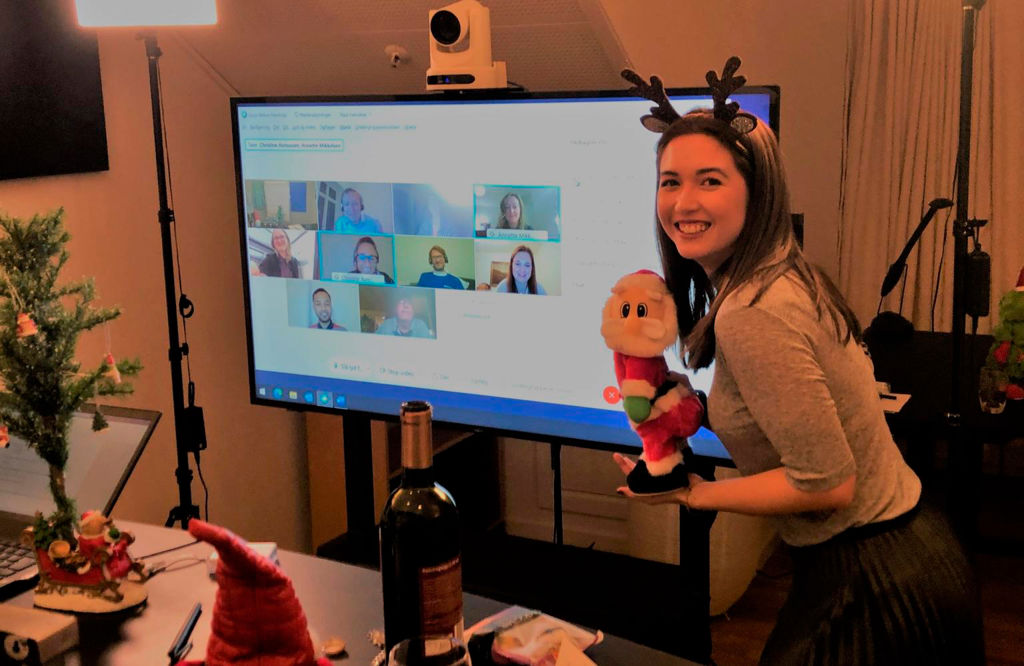 In December, NIM hosted a Christmas event for its members. Here is Sophie Lin Hansen from Danske Bank hosting the event.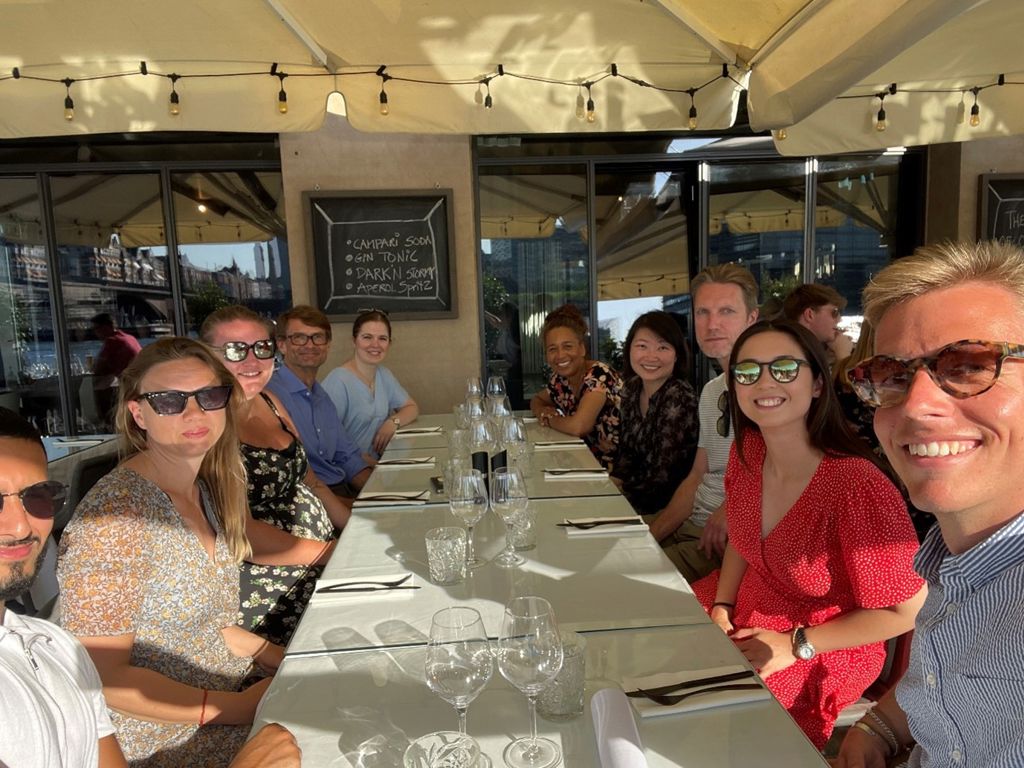 NIM Board members and Finansforbund's staff from left to right: Kian Ahranjani, Kristina Sehested, Vicky Leigh-Mackenzie, Esa Toivonen, Kalina Boyanova Guldberg, Christine Asmussen, Nancy Zhang, Anders Lyager Olsen, Sophie Lin Hansen, Daniel Dalum-Larsen.
Join Network of International Members in Finansforbundet (NIM)
The target group for the network is international employees working in the financial sector but native Danes with an international mindset are welcome as well.
Find and join the LinkedIn group here