Danske Bank employees fight for colleague with cancer
Patricia Simonsen, who is an adviser in the cooperative housing team at Danske Bank in Høje Taastrup, was diagnosed with a rare and aggressive cancer in August. In their free time, a group of colleagues and managers have joined forces in Team Patricia, which collects money for a course of treatment in the U.S. for the 26-year-old mother of two little girls
On the last day of the summer holiday of the year, Patricia Simonsen discovered a lump in one of her breasts. She went to doctor the next day and was referred for a biopsy and then surgery. The diagnosis of breast cancer was indicated early on, but it turned out that Patricia suffers from angiosarcoma – a very rare and aggressive form of breast cancer.
Patricia is on sick leave, but her colleagues at her workplace in the cooperative housing team at Danske Bank in Høje Taastrup see her regularly.
"It's always up to a sick employee how much openness there is. Patricia is very open. It's liberating that she is so visible and comes in to see us so that we can see and talk to her", says Betina Smærup, who is the Business Director for Patricia's area in the bank, but speaks as a colleague and private individual in this article.
"That's the best way to do it for me", says Patricia Simonsen.
Her colleagues have been kept updated about the progression of her illness – even when she got the serious diagnosis.
"At a morning meeting on Teams, at first there was a lot about the programme professionally. Then Patricia came on the screen and told about her illness. It really hit home – we were completely done afterwards", says colleague Marianne Paludan, who had to go for a walk to be able to take it in.
Legitimate for illness to take up time
Patricia prefers to write ahead of time and ask her colleagues if it's OK if she drops by.
"There has always been support for me to come in without having to do anything", she says.
It also happens that colleague Michelle Skovbjerg Andersen from the cooperative housing team goes to Patricia's home and works:
"We are used to sitting together in the office. So we sit at Patricia's home and have fun like we usually do", she says.
The bank does not require colleagues in the cooperative housing team to achieve the same as when they have a full team.
"But we like to make an extra effort because we are so well taken care of", says Marianne Paludan.
"We plan our own hours and use flextime so that we have time to see Patricia. Then we pick up the pace and hold meetings at other times", says Michelle Skovbjerg Andersen, who has taken over some of Patricia's duties.
"We were buddies and involved in each other's work in advance, so it came naturally", she says.
"There is a clear signal that it is OK to take time when a colleague – and in my case a sister - is seriously ill. You might as well legitimise airing it out at the workplace by being open about and being able to talk about it. Otherwise, it will take up time anyway – just in other and perhaps more conflict-filled ways", says Maria Georges, who, like her sister, works at the bank – she is in the "Young Direct" department.
"I have major flexibility in my work and can organise it so that there is also room for me to support and help my sister. When no one is begrudging about it, you feel like giving and not being small-minded. It's a gift for everyone", she says.
"The management and culture of the workplace are of great importance. We have a very empathetic management here. I have been at workplaces in the past that were completely different. I knew a manager who hid when a very ill employee came in to say goodbye. It was hard to be there", says Marianne Paludan.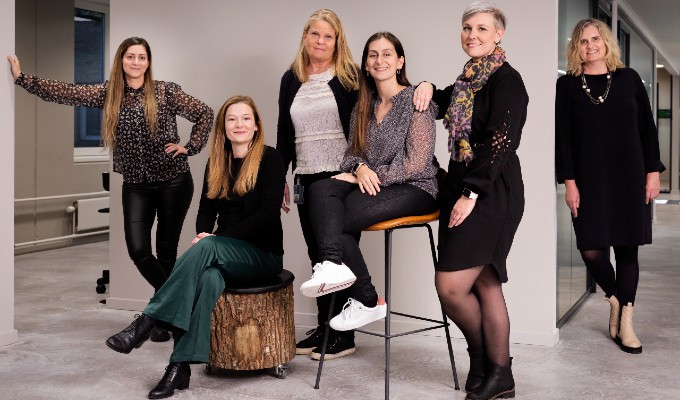 The colleagues in Team Patricia have started a collection for a course of treatment in the U.S. From the left: Maria Georges (Patricia's sister), Christa Bang Olsen, Marianne Paludan, Patricia Simonsen, Michelle Skovbjerg Andersen and Betina Smærup. (Photo: Lars Bertelsen)
Collecting for treatment in the U.S.
In September, Patricia was refused chemotherapy in Denmark. Her sister found a hospital in Texas in the U.S. where specialists have good experience preventing relapse and spread by using chemotherapy for angiosarcoma.
"If Patricia is to be treated abroad, we will take up a collection", said Christa Bang Olsen, and so Team Patricia became a reality.
The team includes colleagues and managers in various roles such as webmaster, 'fund minister' and marketing manager.
After the first 10 days, Team Patricia had collected half a million Danish kroner and gotten several thousand followers on Facebook. The goal for the collection is two million Danish kroner, and there is still a ways to go.
Team Patricia meets during free time – an hour per week on Teams. They have organised a collection fund and have each activated their network, where many people have been ready to help.
"It feels nice to do something instead of just sitting on your hands. We have in common that we are businesspeople", says Marianne Paludan.
New perspectives on life
Patricia's illness has triggered many different reactions and reflections – including with colleagues in other teams.
"It's been a reminder that serious illness can also affect young people. This has led several colleagues to reassess their own lives: am I using my time properly? Should I have children earlier than planned – or maybe not have children at all?" says Maria Georges.
She herself has become more aware of physical symptoms that she would have dismissed before.
"We all feel different ways about it. Patricia's illness has awakened something in all of us", says Maria Georges.
Everyday talk about the weather has also been put into perspective, says Betina Smærup:
"You're lucky if the weather is your biggest problem. That's the way things are being reframed. You are reminded that everything in everyday life is worth being grateful for."
"I miss an ordinary work day with small talk about the weather", Patricia adds.
The sense of unity in the bank does not come from many years of close workplace relationships. Patricia Simonsen joined the cooperative housing team in August 2020.
"I was nervous about whether I would be part of the team due to the corona shutdown. But actually, working at home was an advantage. When I had questions, I called the colleague who was available. That way, I quickly got a network. We talked about a bit of everything, and I quickly became part of the team", says Patricia, who was initially part-time.
"That's why we went with you to the garden centre and pancake baking with your girls when we had the online Friday bar. You have a wonderful personality and were included very quickly", Marianne Paludan emphasises.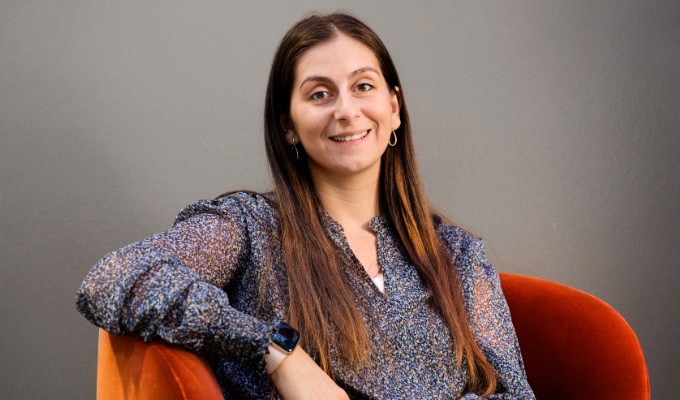 Patricia Simonsen has chosen to be visible and open about her illness. She prefers to write ahead of time and ask her colleagues if it's OK if she drops by. (Photo: Lars Bertelsen)
Breaks without talking about illness
Patricia Simonsen and Team Patricia know that it can be difficult for some people to handle when a colleague gets seriously ill.
"Some may be afraid to cross my boundaries or ask stupid questions, even though I'm open", says Patricia.
Others find it difficult because they themselves have had cancer as part of their life.
"We react differently and nothing is right or wrong", notes Marianne Paludan.
It was also intense when Patricia got a call at work asking her to come to an emergency meeting at the hospital and to take a relative with her.
"I broke down on the floor, was shaking all over and felt like I couldn't breathe. When I got home, I thought: God, what are my colleagues going through", she says.
Patricia doesn't always feel like talking about her illness:
"When Danske Bank was celebrating its 150-year birthday, I was having a bad time after a hard week of many disheartening messages from the hospital. So I just needed to come and enjoy myself without talking about illness, and that was respected", says Patricia, who, without a drop of alcohol, celebrated with her colleagues until 5 a.m.
"It was good for me – I really needed that energy boost", she concludes.
Read more about Patricia's illness and the collection on the Team Patricia website https://www.teampatricia.dk/
And on the 'Team Patricia' Facebook group.