The Metaverse: Learn what it is and how it might affect the financial sector
Date
28. Sep 2022, 15.30
-
17.30
Registration deadline
25. September 2022
Are you also curious about what the Metaverse actually means? And do you wonder if it's something you should begin to prepare for? Then join this webinar where we focus on the future aspects of the metaverse in relation to the financial sector.
Gain
Learn to understand the Metaverse

What are the long-term perspectives for the financial sector?

How can you prepare for the Metaverse?
Content
The Metaverse is a relatively new term used to describe the convergence of the virtual and physical world, where the virtual economy, new virtual workflows and new digital assets plays a central role. But how will it affect the financial sector? What opportunities does the Metaverse provide and what can the financial sector do to achieve value from the Metaverse and make sure to enter at the right time? Last but not least, what skills are needed from employees in the financial sector?

Sofie Hvitved from the Copenhagen Institute for Futures Studies will help you understand what the Metaverse is and how you can become Metaverse-ready.

Educator
Sofie Hvitved is a Senior Advisor and Futurist at the Copenhagen Institute for Futures Studies, where she focuses on the future of media and technology. She has extensive experience with keynotes and presentations on a wide range of topics within media and technology and is one of Denmark's leading experts in the development of the Metaverse. She is also a member of the Danish Media Board and has a past in DR Strategy & Project.

Other info
During the webinar, your name, email and any photos and videos might be visible to the other participants in the event. Your name, email, position and company may also be disclosed to the instructor, solely for the purpose of the instructor's conducting of the event. You may object to the disclosure of your personal data and your data being visible to the other participants at any time. You can do so by sending an email to clu-gdpr@finansforbundet.dk indicating the name of the event.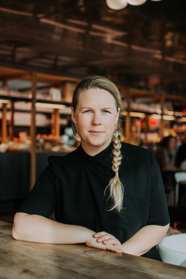 Sofie Hvitved
Contact
Center for læring og udvikling
You have now unsubscribed from the event
If you have paid for the event, you will receive a refund.

The event will no longer appear on your list in My Union