New to the Danish labor market and the financial sector?
Date
14. Nov 2023, 17.00
-
19.30
Format
After-Work-meeting
Location
Huone Copenhagen
Amager Strandvej 390
2770 Kastrup
Registration deadline
31. October 2023
Target group
All members, Non-members
Curious to learn more about the Danish labor market, how it is regulated and what it means to you? And would you like to hear a personal story and have tips on how to work in the Danish financial sector and being part of an international network in Denmark with many exciting activities waiting for you.

What you can gain by participating
Deeper insight into the Danish labor market, its regulation and what is means to you
Learn to understand the role of Danish trade unions and Employers organizations
An insight into how it was for an international member to start living in Denmark and working in the financial sector
The opportunity to hear about The Network of International members (NIM) and the benefits of being a member of the network
Content
The Danish labour market – including the financial sector – works differently than labour markets in almost all other parts of the world. At this workshop, we will introduce you to both nice-to-knows and need-to-knows about the Danish labour market – such as how your salary, holidays and other important terms and conditions are defined and how you can have a say.

This afterwork meeting focuses on The Danish bargaining model and flexicurity by associate professor Nana Wesley Hansen.

Nana will give you an insight into 'the Danish model' – a description that emphasizes the importance of the voluntarist employment relations system in Denmark, where the state plays a limited role and collective bargaining dominates the labor market regulation.

Trade unions and employers' organizations greatly influence employment policy, wages and working conditions through this voluntarist system. Moreover, a rather liberal element in the Danish model is the so-called 'flexicurity system', allowing employers considerable flexibility when hiring and dismissing workers, balanced by rather generous welfare benefits and access to further education and training for unemployed workers. This system remains supported by both employers and trade unions.

Nana will present the basics of 'the Danish model'. She will introduce the collective bargaining process, flexicurity and discuss the role of trade unions and Employers organizations in regulating the Danish labor market.

At the meeting Nancy Zhang will also share her personal experiences of being new to the Danish financial sector as well as she will tell you about Finansforbundet´s social and professional Network of internationals (NIM) and how you can use the network.

Program
At 16.30-17.00 Check in with coffee and cake
At 17.00-18.00 First part of the event
At 18.00-18.30 Break with light food
At 18.30-19.30 Last part of the event
At 19.30 Goodbye and thank you
Topics of the evening
"The Danish model', the collective bargaining process and flexicurity and what it means to you
The role of trade unions and Employers organizations in regulating the Danish labor market
New to the Danish Financial Sector – a personal story about living in Denmark and working in the financial sector
About the activities and advances of the Network of International Members (NIM) at Finansforbundet
The venue is easily accessible
This event is held at Huone Copenhagen. Huone Copenhagen is very close to the motorway exit 16-Lufthavn Ø and there are very good parking options for a fee. If you come by public transport, you just must get off at Kastrup metro station and walk five minutes from there. By bike it takes 30 min. from Copenhagen's Town Hall Square.
Look at the map here
Parking
You can purchase parking by using the parking stands in the area or through the app "EasyPark". Use the areacode 4310. The price is 74,75 DKK for 5-9 hours of parking.
You can also buy a dayticket in the reception on HUONE. The price for a dayticket is 75 DKK, and is valid from the time of purchase and then until 08.00 the following day. Read more here.

Speakers
Nana Wesley Hansen is an associate professor at the Employment Relations Research Centre (FAOS), Department of Sociology, University of Copenhagen. Her primary research area is collective bargaining and cooperation in the public and private sectors – i.e., the Danish bargaining model. Her research interests also include high-skilled labor mobility and global value chains.

Nancy Zhang has recently served as Head of Controls & Monitoring (Director) covering financial reporting risk and control in Nordea. She is a strategic leader with proven track record leading successful change in complex global organizations within highly regulated sectors. Her extensive international experience includes leading a global function in Denmark, regional responsibilities in Asia and the US, and country specific accomplishments in China. Nancy has a Bachelor of Commerce from University of QLD, Master of Commerce from University of NSW, and a master's in finance from INSEAD. Nancy is also a qualified accountant and maintains current accreditations through the Institute of Chartered Accountants Australia & New Zealand.

Not a member?
If you are not a member of Finansforbundet, you can register for this event by sending an email to arrangementer@finansforbundet.dk, with full name, telephone, e-mail, and workplace. If you sign up, you give your consent for Finansforbundet to contact you by telephone, per email or via social media (Meta, Google, YouTube and LinkedIn). Consent can be revoked at any time by sending an email to afmeldsamtykke@finansforbundet.dk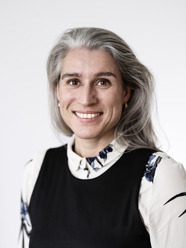 Nana Wesley Hansen
Contact
Center for læring og udvikling
You have now unsubscribed from the event
If you have paid for the event, you will receive a refund.

The event will no longer appear on your list in My Union