Meet the TikTok Generation and Their New Banks
Date
21. Sep 2022, 17.00
-
18.30
Format
After-Work-meeting
Location
Finansforbundet
Applebys Plads 5
1411 København K
Registration deadline
6. September 2022
They can´t patch a bike or change a light bulb, in return they sovereignly control their lives over social media that their parents haven't even heard of. If incumbent banker don't learn to understand this generation, they may lose their future.

Gain
Insight into where and how the new generation draws its inspiration, what it responds to and what demands the new young people make on the banks of the future.
Insight into how new financial companies operate under the radar and on social media shape new communities.
An overview of the new trends and technologies that prevail in the Gen Z Universe, where TikTok has become their preferred social media.
Examples and cases from around the world that paint a new scenario of the future financial infrastructures.
Ideas and suggestions as to how financial employees and banks may reverse the trend and again become part of the young people's amazing universe.
Content
This is an inspiring journey into the future, where you as a participant through pictures, videos and real-life examples get an insight into what is happening in the outer growth layer, where new banks are created.

The lecture describes the differences between the incumbent banks and the new neo banks (online banks) and financial players that are out to hijack the next generation. It is a lecture that illustrates the seriousness of our need to change, but it also inspires and emphasizes that it is not too late and that the process into the future makes it far more interesting to be in the financial sector than before.

Program
At 16.30 Coffee, tea and cake
At 17.00 The event starts
At 17.40 Short break
At 17.50 Event continues
At 18.30 Goodbye and a to-go snack

Educator
Nils Elmark is a futurist from London, where he has been following boom of international fintech closely for the past 10 years. He is the author of the Financial Services Union´s latest trend report "The financial industry in new Communities" and he has published several English-language books on the future of finance, most recently "The New Local Economy".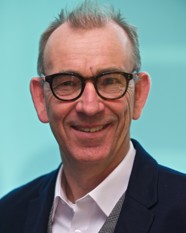 Nils Elmark
Contact
Center for læring og udvikling
You have now unsubscribed from the event
If you have paid for the event, you will receive a refund.

The event will no longer appear on your list in My Union