Equity & psychological safety – the key to unlock the potential of diverse teams
Date
26. Oct 2023, 16.30
-
20.00
Format
After-Work-meeting
Location
Saxo Bank
Philip Heymans Alle 15
2900 Hellerup
Registration deadline
18. October 2023
Target group
All members, Non-members
Diversity, Equity and Inclusion (DEI) have become focal topics within organizations and communities where there are increasing numbers of employees or employment seekers from different backgrounds.

This is increasingly a topic of particular interest for employers in the financial sector in Denmark as well as employees of diverse backgrounds in order to maintain high performance in the workplace and cultivate a sense of belonging. Research shows that psychological safety can unlock the potential of diverse teams, by providing a foundation for equity and inclusion to grow.

What you can gain by participating
To increase understanding of equity and inclusion, and create visibility for challenges in the Danish financial sector labor market,
To debate about the concept of equity vs equality to raise awareness of what really matters and learn from best practices,
To explore the concept of psychological safety as an enabler for high performance,
To learn more about ourselves through understanding and unjudging others,
To connect people in the network by providing an opportunity to share their experiences and opinion
Data suggests that the Danish financial sector has become increasing diverse with a continuing trend in coming years. However, recent survey results and comments from members in our network have indicated a need to raise awareness of DEI challenges and provide resources and support to cultivate equity and inclusiveness.

Is equity the same as equality? No. Equity is the means by which individuals are treated fairly based on each individual's needs; by contrast equality is providing the same treatment to all. Equity is giving everyone a pair of shoes that fit. Equality is giving everyone the same pair of shoes.

Why is inclusion important? Because without it, the potential values and advantages of having a diverse workplace and community cannot be fully realized, internationals cannot fully thrive as their authentic selves, and the Danish labor market cannot harvest the benefits from diverse talents and remain competitive. It does not matter if everyone are wearing shoes that fit, if they don't get to use them.

Psychological safety, a term coined and defined by Harvard Business School professor Amy Edmondson, is a belief that you will not be punished or humiliated for speaking up with ideas, questions, concerns or mistakes. In short, it is how comfortable individuals are with taking risks and being vulnerable with their team. Research shows that psychological safety can unlock the potential of diverse teams, by providing a foundation for equity and inclusion to grow.

Program
At 16.30 - 17.00: Arrival
At 17.00 - 17.15: Welcome and introduction by Kathrine Glahn, Diversity & Inclusion lead in Saxo Bank & Representative from Presidency of Finansforbundet
At 17.15 - 18.00: Keynote speech – Equity & psychological safety the key to unlock the potential for diverse teams by Sara Louise Muhr, Copenhagen Business School
At 18.00 - 19.00: Panel discussion and Q&A – Marie Valentin Beck to moderate

Best practice and learning points
Kathrine Glahn, Diversity & Inclusion lead in Saxo Bank
Alina Bach Belinskaya, Co-founder of Women in Nexi
Frants Nielsen, erfaren administrerende direktør med fokus på strategisk forandringsledelse
Sara Louise Muhr, Copenhagen Business School
At 19.00 - 19.05: Closing remarks by Nancy Zhang, SteerCo Member of Internationals in Finance
At 19.05 - 20.00: Networking
At 20.00: Close

Speakers
Sara Louise Muhr is Professor of Diversity & Leadership at the Department of Organization as well as academic co-director of CBS Leadership Centre.

Not a member?
If you are not a member of Finansforbundet, you must send an email to arrangementer@finansforbundet.dk with
Full name
Company
Telephone number
Email address
We will then contact you after the event for possible membership.

Other Info
Your name, position, email, and company may be disclosed to the instructor and conference venue, solely for the purpose of their conducting of the event. You may object to the disclosure of your personal data at any time. You can do so by sending an email to clu-gdpr@finansforbundet.dk indicating the name of the event.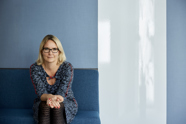 Sara Louise Muhr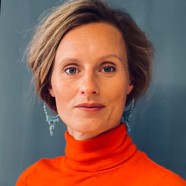 Marie Valentin Beck
Contact
Center for læring og udvikling
You have now unsubscribed from the event
If you have paid for the event, you will receive a refund.

The event will no longer appear on your list in My Union