We have a common interest in creating the best possible workplace
Janni Berg Christensen is a union representative at Nykredit. She has always had empathy and cared for her colleagues, and she thrives in the role of liaison between employees and management. But first, the framework for being able to properly fill the position of trust had to be in place.

"It's great to be a union representative. It adds value to my work when I feel that the members are pleased with what I do for them," says Janni Berg Christensen, who is a union representative for almost 40 employees in four teams at Nykredit in Viborg and Thisted.
She has always had empathy and cared for her colleagues and believed she would make a good union representative. And yet, she hesitated to offer herself as a candidate when the position became vacant.
It required a conversation or two with management:
"It was crucial to me that my manager understood and accepted that I would have to spend time on my union representation work and would therefore not be able to deliver the same in terms of work. I would only take on the role if I could do it properly. We then agreed on a framework for that."
Doing it properly is to a great extent about being visible and accessible and making members aware of how they may use their union representative, Janni emphasises. She learnt quickly that it is a diverse role:
She has, for example, been a friendly face at termination interviews, the practical organiser of a workshop on well-being and a good listener when a colleague needs to vent and asks: do you have five minutes...?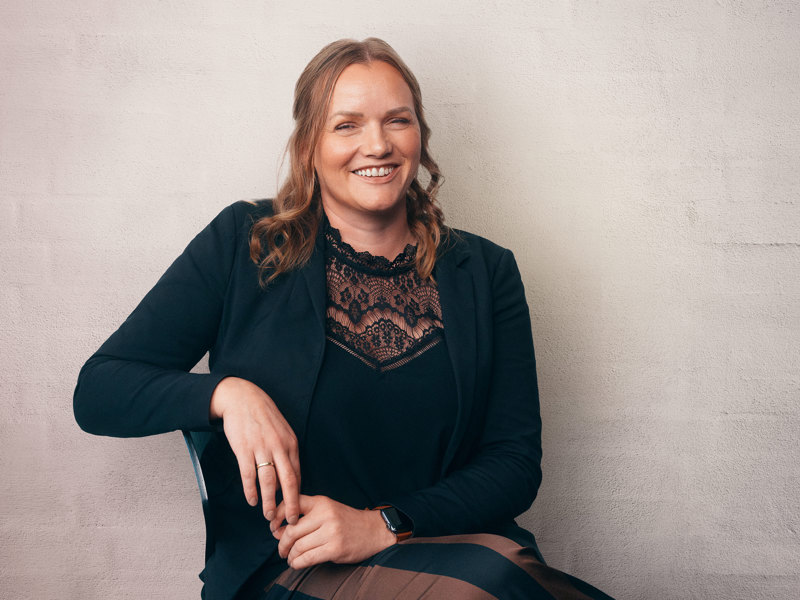 Janni Berg Christensen, 37 years old and an agricultural adviser at Nykredit, where she has been a union representative for just over a year. Foto: Rune Lundø.
Training is a gift
Janni asks for the members' input when she is about to attend a meeting with the management.
She emphasises being proactive. Issues need to be taken care of before they turn into problems.
In Janni's view, it is exciting to be liaison between employees and management, and she also appreciates having a management team who supports her and sees the value of her role.
"I'm a spokesperson for the members and have the courage of my convictions. But I have to strike a balance between both parties and communicate effectively. We have a common interest in creating the best possible workplace. You don't achieve anything if you take up an uncompromising attitude."
She has found that the communication between employees and management constitutes self-development:
"I've become more powerful in my communication and more aware of what I say and signal."
Finansforbundet's union representative training has also proved a positive surprise.
"In the beginning, I thought that the training was just something that I had to get over. Today, I consider it a gift."
The package also includes a valuable network of union representatives from other companies, with whom Janni can discuss and exchange experience.
"It's extremely rewarding, and I learn a lot from being a union representative. I can only recommend offering your candidacy if you feel like it. But make sure you have the support of everybody."