Create growth with green transition - also for non-members
Tidspunkt
21. sep 2021, 16.00
-
17.00
tilmeldingsfrist
13. september 2021
Målgruppe
Alle medlemmer, Ikke-medlemmer
The webinar shows the green technologies, business models and trends that both ensure green transition and create new growth for Danish companies.
1. Introduction to the green transition
2. Green technologies, business models and trends
3. Link between sustainability and enhanced competitiveness
4. Change of mindset and success criteria for green transition
Many Danish companies are on a journey where they are transitioning their company, products and approach to the market in a more green and sustainable direction. This is a transition that requires new competencies, a new mindset and a new way of measuring success. This webinar bridges the gap between green trends and technologies on the one hand and business growth on the other. We expand on definitions, time frames and ways of working with new green growth, and we embrace the barriers and challenges that companies and employees may encounter along the way.
The webinar lasts one hour and consists of 40 minutes of presentation as well as 20 minutes of questions and discussion.
Platform
For your information we use the platform Teams. During the meeting there will be group discussions in breakout rooms.
By registering, you give your consent to Finansforbundet, presenters and other participants to see your name and picture during the Teams meeting.
Speaker
Natasha Friis Saxberg is Adm. Director of the Danish ICT Industry Association and has worked with digital growth, venture and innovation for two decades. Amongst other things, she has founded several global startups and has also helped Danish startups enter the American market. Natasha is also a Digital Adviser at the Danish Academy of Technical Sciences and a member of SIRI-Kommissionen and the Danish government's Digitaliseringspartnerskab (Digitisation Partnership).
Registration for non-members of the Financial Services Union:
Not a member of Finansforbundet? No problem. Sign up for this meeting by sending an email to arrangementer@finansforbundet.dk stating your full name, mobile, e-mail and workplace. Non-members will afterwards be contacted by the Financial Services Union.
Please note that the names and e-mail addresses of all participants registered for this event will be passed on to the instructor, course provider and conference venue for the purpose of organising the event. We do not share your information with the other course participants.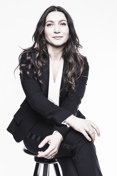 Natasha Friis Saxberg
Kontakt kursusadministrator
Du er nu afmeldt arrangementet
Hvis du har betalt for arrangementet, får du beløbet tilbagebetalt.
Arrangementet vil ikke længere fremgå på din liste i
Mit forbund