"This is not fair – our digital engagement is not the same!"
Discontent is growing among those waiting in the long line in front of Danske Bank at Nørreport; a line that is especially long around the turn of the month. Yet, the branch's staff receive praise.
"I've tried waiting for two and a half hours, because the bank system broke down".

There are many sad stories in the queue outside Danske Bank at Nørreport, the only branch on Zealand where you can withdraw money at the cashier's desk. Aarhus is the only other possibility.

Two broad-shouldered guards firmly control the queues at the entrance to the bank, where up to twenty people are let in at a time. The noise simply becomes too loud if more people are let in.

Outside, the line of waiting customers snakes along the entire building, this morning bending its tail from time to time. This happens often at the turn of every month when people come to withdraw their salaries or public benefits. But today's line is not really that long according to one of the regular queuers.

"Sometimes, the line makes a wide turn, continuing all the way to the other side over there. It's dreadful standing here for so long, especially when it's cold or very warm", says an elderly lady.
She hasn't quite mastered going digital and is more comfortable with getting her money in cash each month.

A man in workwear bursts out in irritation that it must be a breeze working in a bank, given the short opening hours. He is queuing every month, and he is fed up with it.


Waits in line every month
A younger woman, a social educator, is one of the regulars standing in the line:

"Leaving my home is extremely difficult for me because I have both physical and mental problems with five diagnoses. I'd rather just stay at home. But since I practically have no identity, I have to appear in person to get my money".

She pays 50 kroner for every giro transfer form that the tellers help her with:

"But what else am I to do? I don't have other options".
It is not fair that vulnerable individuals have to wait in line for a long time to get help, a regular in the queue says. Foto: Claus Bech
"Surely, there has to be another option for vulnerable people like us who are not digitally engaged and need help".
- Woman standing in line outside Danske Bank.
Her mother, too, has great problems. Although she suffers from severe osteoarthritis, she is forced every month to take a taxi back and forth to withdraw cash at Nørreport.

"Surely, there has to be another option for vulnerable people like us who are not digitally engaged and need help. It is not fair that our situation is not taken into account. But the staff in there are always amazing. They are kind and always take time to chat a little".


Coins in a suitcase
You will find mobility scooters and people with walking difficulties in this motley queue, most of them appearing to be customers from the Greater Copenhagen Area. One has come from Husum, a 40-minute commute each way, others report having previously queued with customers coming all the way from Elsinore.

A woman is dragging along a purple suitcase in the line.

"I have coins in it, too many to put them in a machine. I knew I would be standing in line, and they are too heavy to carry, so I put them in my wheeled suitcase", says the middle-aged woman.
She tells us that she has been ill for a year and a half after getting her covid vaccination. She therefore no longer has a job but used to work in the insurance business.

"Perhaps the worst is seeing nursing assistants having to queue for their residents." I met two, the last time I was here. Instead of being with their residents and helping them, they have to spend time waiting in line for them here".

When asked by the newsletter Finans, the press department at Danske Bank said that the bank, unlike many other banks, still operates a cashier's desk, albeit only at two branches.

"Well, that's because very few people use the cashier's desk because the vast majority of people find there are good alternatives. But yes, queues are forming around the turn of the month".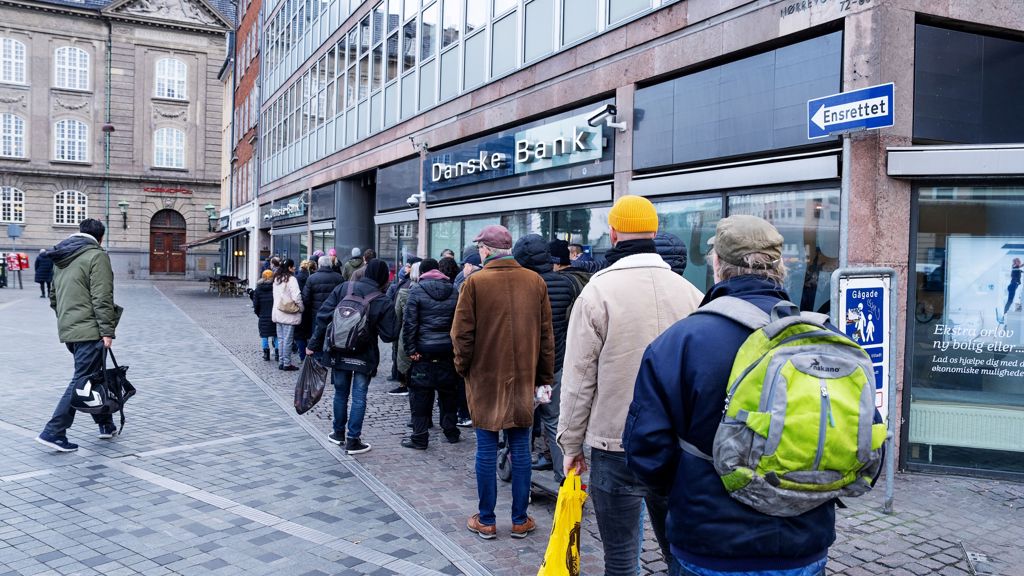 Foto: Claus Bech