For the first time ever: A full year without a bank robbery
The number of bank robberies has decreased in recent years, and 2022 became the first year in which not a single bank robbery was committed.
2022 will by many be remembered for the war in Ukraine and the soaring inflation. But the year is also a milestone for entirely different reasons.

For the first time ever, not a single bank robbery was committed in Denmark. This appears from statistics released by the Danish interest organisation for banks, Finans Danmark.

Steen Lund Olsen, Vice President of Finansforbundet is very pleased.

"It is nothing short of fantastic. Because the burden on the staff, every time it happens, is extreme. You can't even begin to understand the emotional toll it takes if you haven't tried it yourself," he says.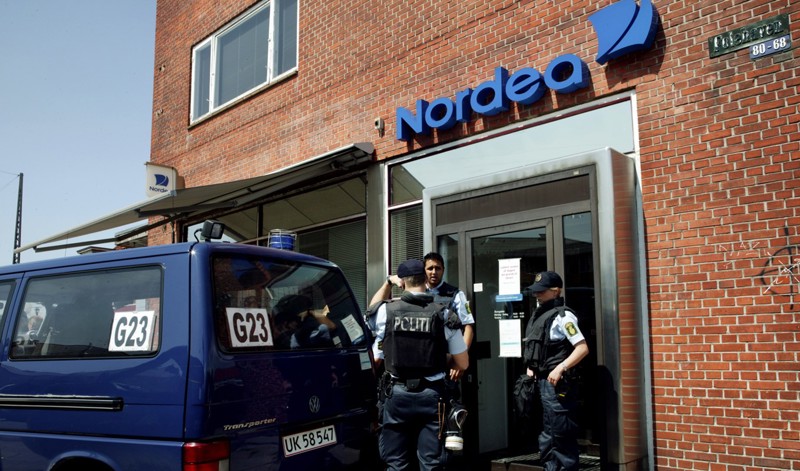 In 2022, not a single bank had to close as a result of a robbery. Arkivfoto

In 2000, the number of bank robberies was 221. That is almost one robbery every day. Since 2017, however, the number of bank robberies has been below ten each year.

The drop is recorded at the same time as many banks have moved away from having cash holdings. Danske Bank, for instance, only has one cash vault in Copenhagen and one in Aarhus.
Statistics
221
That is the number of bank robberies in 2000
This corresponds to almost one robbery per banking day
<10
Since 2017 fewer than ten bank robberies were committed each year
Only one bank robbery was committed in 2021
0
2022: First year with no bank robberies
For the first time ever, not a single bank robbery was committed last year
"A ticking time bomb"
But although the number of robberies has dropped, many bank employees who have experienced a robbery still struggle with the consequences.

This is known to the social workers team in Finansforbundet that currently processes 12 industrial injury cases related to robberies committed from 2002 to 2018.

"Some of these cases have been going on for 20 years, the reason being that the members were not diagnosed with PTSD before many years after the incident, " says social worker Olivera Nancovski. Her colleague Michael Dreyer adds:

"It's like a ticking time bomb with the slightest thing being the trigger; a changed rhythm of work, having to fill a new function or being placed at a different spot in the room."

Our social workers also tell us that some have been retraumatised in connection with the increased use of face masks during the corona pandemic. Especially the black face masks have, due to their likeness to the masks that many bank robbers wear, brought back trauma for some victims of a bank robbery.

Anxiety, irritability, restlessness and insomnia are among the symptoms that the members in question struggle with. For some, it interferes so much that they cannot work at all and have been granted early retirement pension; others have started in a flex job that takes their special needs into consideration.
One of them is Anette Korsgaard Hilligsøe who was held up at gunpoint and taken hostage in a robbery six years ago.
A normal Friday changed Annettes life forever
Violence and threats remain a problem
Although a year has now passed, for the first time, in which no bank employee has had to face a bank robber, challenges of violence and threats in the sector remain considerable, Steen Lund Olsen, Vice President of Finansforbundet, emphasises.

Today, this is increasingly in digital form, but it is still a huge problem for the staff, he points out.

"There are still employees – particularly those in customer-facing positions – who are abused via email or over the phone. Employees who are threatened in virtual and physical meetings. That is unacceptable," says Steen Lund Olsen and continues:

"These are ordinary people who are just doing their job. You should, of course, be able to do that without the risk of being harassed and traumatised."