Bigtech moves into the financial world
Google, Apple, Facebook and Amazon are in the process of expanding their range of financial services for their billions of users. According to Finance Denmark's CEO, Ulrik Nødgaard, the nightmare scenario for financial institutions is to lose contact with the customers and become a sub-supplier for the platforms of the tech giants
First payment services. Then credit. Now deposit accounts. And – perhaps – soon also investment products.
The American tech giants, Google, Apple, Facebook and Amazon, are moving directly in on the hunting grounds of the banks, in their apparently insatiable attempts to expand business.
According to experts, this goal extends beyond increasing revenue from new business areas to obtaining even more information about consumers, competitors and partners.
All members of the so-called GAFA four-leaved clover have thus started exploring payment services, both exotic and less exotic, which they are currently testing in selected parts of the world – from India in the east and Brazil in the south, to their home market in the US. This is the first step before a worldwide launch.
The most popular mobile payment solutions
Only the tech giants themselves know how much money is already flowing through their payment solutions or how much of a profit they generate. However, one of the most lucrative is Apply Pay, which in a few years, has become the most popular payment solution for mobile phones in the US and Europe.
According to the venture capital firm Loup Ventures, it is currently being used by half a billion people worldwide. And there is room for growth because there are roughly twice as many iPhone users.
The consultancy company Bernstein thus forecasts that one out of ten credit card transactions in 2025 will be performed through Apply Pay – an evaluation performed before the corona pandemic, which accelerated the development of contactless payment.
And every time you hear that crisp "pling" on your iPhone when you are at the bakery or supermarket, Apply Pay claims a portion of the transaction fee, which goes straight into Apple's till.
In other words, Apple Pay has become a money machine, which according to analysts, may surpass the revenue from commissions that the tech giant earns from sales in App Store.
Earnings from transaction fees
Competitors are right on its heels. First and foremost, there is Google Pay, a similar concept which has over 150 million monthly users, but has not yet caught on in Europe.
Facebook is currently developing several payment services, including a crypto-currency called Diem. Towards the end of 2019, Facebook Pay was released, which in time will allow you to send money across the Facebook Group's services: Facebook, Messengers, WhatsApp and Instagram. And for payment on Facebook Marketplace.
The big breakthrough came in November, where permission was obtained from the authorities in India to launch WhatsApp Pay to the country's 400 million users of WhatsApp. While it is free to send money between private Indians, businesses that receive payment via WhatsApp Pay will have to pay a transaction fee of four percent.
WhatsApp Pay is also trying to establish itself in Brazil, Mexico and Indonesia.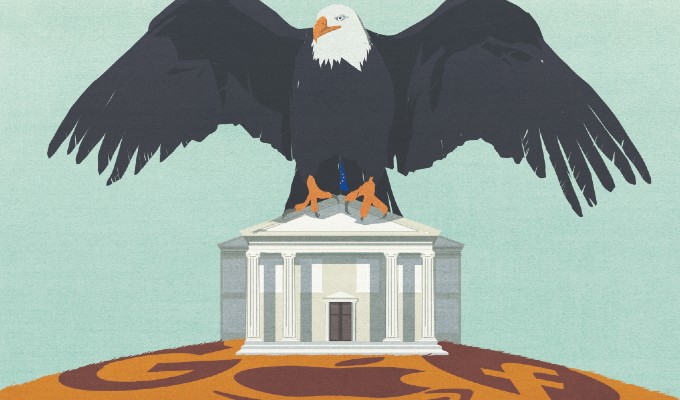 Provision of credit and opening bank accounts
However, the tech giants are also involved in credit. Both Amazon and Apple are issuing classic payment cards, which generate transaction fees – and interest income if these are credit cards.
Furthermore, as something quite special, Amazon is providing loans to selected small and medium sized enterprises that sell their products directly on the Amazon platform.
Like Facebook, Google has not yet introduced its own payment card, but according to the online media TechCrunch, they are working on it.
On the other hand, the search engine will presumably be the first in the four-leaved clover to offer bank accounts.
The phenomenon, which was originally set for launch in early 2021, has been named Google Plex or Plex by Google Pay. This is because even though you are in essence creating and administrating the account through the payment app Google Pay, you are technically opening an account in one of the currently 11 partner banks, which are also responsible for customer verification and risk management and which bear the legal liability.
Google thus earns fees as a mediator since the group has no banking licence. And it presumably has no plans to get one.
'Google has no interest in ever becoming a bank,' said Felix Lin, Google's so-called Vice President of Payment Ecosystems, in an interview with niche media The Financial Brand.
Google Plex
Under the name Plex, Google will soon offer its American users the possibility to create payroll and savings accounts. The account is opened on your mobile device with the payment app Google Pay (which is available for both Android and iPhone), and it is also via Google Pay that you check your account balance, transfer money, order credit cards, etc. Nonetheless, Google is only the mediator, as the user has to choose which of the currently 11 partner banks to join as a customer. It is therefore the bank that communicates with the customer, incurs the risk and is responsible for ensuring compliance with legislation. The account will generally be free of charges, but the individual banks may to a certain degree tailor their offer to the customers.
Fears of becoming a sub-supplier
The CEO of Finance Denmark, Ulrik Nødgaard, does not fear that the American tech giants will become actual banks with their own banking licence.
'No, I don't see that happening. It would be a gigantic culture shock for those companies to step into a world with detailed inspection and all the rules we have. So I think that they will go a long way to avoid this,' explains the head of the Danish banks' lobby organisation.
Nonetheless, there is concern in the European banking association, EBF, where colleagues have asked the Dane to look at counter measures to the tech giants.
'The ultimate nightmare scenario is one where these platforms become providers of financial services and where banks become a sort of sub-supplier to the platforms, which handle the customer contact. We do not expect to end there, but there is that concern.'
Do you fear the tech giants more than the neobanks like Lunar, N26 and Revolut?
'I am quite certain that there is a market share for what you call neobanks, but it is hard to see it shaking the whole sector to its very foundations. The neobanks are challenging the established players, but we do not regard them as possible fundamental game changers. However, with the power of bigtech, you cannot just confidently disregard the possibility that they may become game changers. That would be arrogance,' says Ulrik Nødgaard.
Bank CEO is terrified
The power that the director of Finance Denmark is referring to consists first and foremost of extremely deep pockets and access to billions of users. On the list of the ten most valuable listed companies, you will currently only find three which are not tech giants.
Today, you have to go down to 15th place to find a bank, i.e. JPMorgan Chase. And only four places further down the list comes the payment service PayPal, which like a number of other fintech companies, has seen its value soar during the last year.
'We absolutely need to be scared shitless of this,' said JPMorgan's CEO, Jamie Dimon, in January. With respect to the market for payment services, Jamie Dimon added, 'there will be stiff competition in the next 10 years. But I expect to win, may God help me.'
Apple Pay
Apple Pay has become the most popular mobile payment service in USA and Europe, and it has given Apple a rapidly growing source of income from payment cards. Banks that want to give their customers the option for contactless payment with iPhone or Apple Watch, must pay up to 0.15 percent of the transaction fee to the tech giant. Plus a quarterly fee. The exact amount is determined via secret negotiations between Apple and the individual banks. Apply blocks competing services from accessing the mobile's so-called NFC (Near Field Communication) chip, and it is thus only Apple Pay that can be used for contactless payment with the chip at payment terminals.
Copies Chinese Alipay
'There is a big movement underway which is restructuring the financial system. In 10-20 years, everything will be changed,' predicts Julien Maldonato, partner at Deloitte and specialising in the financial industry at the consultancy company's French section, which has advised large parts of the French banking sector.
Julien Maldonato is not in doubt that the banks will face tough times because GAFA is in the process of copying Ant Group – the financial arm of Alibaba, China's version of Amazon, which started the payment service, Alipay.
'At the beginning, you simply linked your bank card from your traditional Chinese bank to Alipay. But, to make things quicker for the users, they offered opening payroll accounts and later savings accounts,' explains Julien Maldonato.
Today, Ant Group is the administrator of the largest so-called money market fund, a kind of liquid savings fund that some 600 million Alipay users – one of out of three Chinese people – have deposited money in.
The bank consultant predicts that Amazon in particular will follow Google and open bank accounts in collaboration with partner banks. 'They would like to be your deposit account, so your salary goes directly into your Amazon account. When you have a payroll account, you will have a positive balance that can be saved up. And when they see that there is money doing nothing, it would be easy for them to offer to invest it,' is the argumentation.
Confrontation or collaboration
According to people like Julien Maldonato, we are, in other words, just experiencing the beginning of the attempts of the tech giants to turn banks into sub-suppliers in their global financial development strategy.
The question is whether cooperation with, for example, Google Plex – if or when it comes to Europe – would be like letting the wolves into the sheep pen for Danish banks.
'I don't think this is what we can conclude. It is a commercial decision that every bank must make. The development with fintech has brought us to a good place where you get the best of all worlds,' says Ulrik Nødgaard.
But are the tech giants competitors or potential cooperation partners for the banks?
'Six or seven years ago, the general notion was that fintech was the big new beast that could come in and out-compete the old, sluggish banks. What happened is that our relationship ended up being more of a cooperation, where many of the fintechs supply solutions to the banks, which they can take advantage of with their access to customers and capital,' responds Ulrik Nødgaard, but he acknowledges right away that the tech giants have 'an entirely different sort of power.'
WhatsApp Banking
A number of banks, including in India, have entered into an agreement with WhatsApp, which makes it possible for their customers to access their account through the payment service, which is owned by Facebook. ICICI Bank's customer can, for example, check their balance on their bank account, connect a savings account, block their payment cards or pay bills by writing to the bank's chat bot in WhatsApp. At AU Small Finance Bank, you can also open a bank account via WhatsApp. This takes place through an electronic KYC (Know Your Customer) verification process. Here, the bank, using one of the automated processes, checks the mobile phone used by the customer to log into WhatsApp in a public registry to verify that it matches the identity of the person in whose name the account is being set up.
Regards Amazon as a threat
At Finansforbundet (Financial Services Union Denmark), the Vice-President regards Amazon as the big threat, not just for banks but also for society as a whole.
As opposed to the banks, the e-commerce giant – which recently opened in Sweden as its first stop in the Nordic countries – is declining to pay tax on a large scale and is suspected of spying against union employees. And the e-commerce giant is also notorious for running with a deficit in certain business areas so as to achieve market dominance. A hole that is then filled with the profits from cloud solutions which are sold to companies, including banks.
'They earn a lot of money on cloud solutions. This also means that when they move into payment systems, it is entirely irrelevant whether they turn a profit as long as they can offer the seller and buyer a smooth payment solution. Because what they make money on is getting more buyers and sellers to their platform. This way, they are a threat to financial companies and payment companies as well as to IT companies and commercial undertakings,' says Michael Budolfsen, who is also president of Nordic Financial Unions and UNI Europe Finance.
Acts as mediator for one percent of private loans
At Finance Denmark, they are taking it easy for the moment.
'It is relevant to monitor what is happening in the US and what may come over the Atlantic. However, even if you look at this sort of thing as credit mediation, then to my knowledge only Amazon is performing it to a large degree. And if you add fintech and bigtech, they are currently responsible for one percent of the credit mediation to private customers in the US. So it is quite little.'
Julien Maldonato is significantly more pessimistic with respect to the banks.
'We thought Google would not be dominant. Google became dominant. We thought Facebook would not be dominant. Facebook became dominant. Every time we wanted to believe that a certain dominance was not possible, yet it happened every time,' says the Deloitte partner.
He notes that the tech giants are in a brilliant position for their next campaign because they have become an even more important part of our lives, with virtual assistants like Google Home and Apple CarPlay.
'The Europeans are trapped on their platforms. They are dependent on their platforms. It seems like science fiction to believe that they won't move in on the financial world, at least within mediation. They will be the mediators for financial services. It seems like destiny to me, or close to 100 percent certain.'
Amazon Lending
Since 2011, Amazon has been offering short-term loans to selected small and medium sized enterprises that sell their products directly on the Amazon platform. The credit assessment is solely based on data such as sales history and customer satisfaction. Since many of Amazon's cooperation partners have their products stored in Amazon's warehouses for quick dispatch, they can also use their stock of goods as security. Companies can only apply for loans if they are invited to do so. Amazon lends from its own funds, but also in collaboration with banks. Most recently, Amazon Lending has announced collaboration with Goldman Sachs' neobank Marcus on its American platform and with ING on its German platform.