Morten got a handle on things before the hamster wheel spun out of control
All successful sellers have a mentor. This is why pension customer manager Morten William Raj also decided to get one. 'I have become more focused and effective,' he says.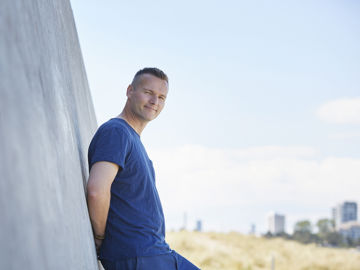 Morten's development journey

Mentor

Boost your career with a mentor

Boost your career with a mentor

Finansforbundet's mentor programme strengthens your personal and professional skills and enables you to boost your career and enhance your effectiveness at work.
Gå direkte til Morten's development journey
The prospect of being caught in a hamster wheel that spins faster and faster spurred Morten William Raj's interest in self-development.
The 39-year-old pension client manager from Danica Pension is a proficient salesperson, but he wanted more control and to set a direction in life, instead of simply striving to meet sales targets that increased by 30% each year – a sure-fire path to stress and divorce.
'I wanted to sell more and improve my quality of life. I wanted to feel that I could get ahead of things and set goals – both at work and in my family life with my three kids,' says Morten, who in his own words was driven by ambition and needed a mental kick in the butt.
That's why he began looking into what characterises the best salespersons and advisers – both local role models and big shots, like the American motivational speaker and coach Tony Robbins.
He quickly realised that they all had a mentor.
Head-hunted for an international team
'If all the good ones have a mentor, then that's the next step for me,' decided Morten and began searching YouTube and Google. That was how he found RainGroup from America, and he subscribed to their materials on sales training and coaching.
After a while he was contacted by the company's practice director Ago Cluytens, who was in the process of setting up a programme for an international team of salespersons. Cluytens had seen Morten's profile and head-hunted the Danish sales expert to the team.
'It was a turning point for me,' recounts Morten.
'The experience taught me to identify the greatest challenges I faced at work and to put in words where I want to be – in a year, in five years, in ten years. The process was great, and it led to improved performance at work.'
Training and interviews in the international team took place primarily using the work and meeting programs Zoom and Slack.
Mentor with great ambitions
Morten did not believe he was good enough, so he felt the need to continue his self-development after RainGroup. He joined the mentor programme at Finansforbundet (Financial Services Union Denmark), which he discovered on their website.
Morten was therefore matched with a former manager of an IT company.
'He was ambitious on my behalf, and he challenged me to set tougher goals for myself. I had doubts, but he was able to instil a sense of confidence in me because he had already been on the development journey and made many important decisions along the way in his career, including leaving well-paid top positions to be self-employed and start from scratch.' recounts Morten.
They met several times, and there was a lot of preparation between the meetings.  Among other things, Morten had to read a few books and decide upon new goals and performance metrics.
'I can strongly recommend for everyone to get a mentor. It has really changed some things for me and helped me prioritise and be more effective – even though it is still challenging to let go of old habits,' he states.
Moving forward
Morten's mentor relationship ended, and this confirmed to him that the journey is just as interesting as the destination:
'I am happy to be moving forward,' he says, and he is now contemplating the direction in which to take his career.
In the spring of 2020, he was included in a promotional video for Finansforbundet. Here, the experts took a closer look at his competencies and experience, and they suggested the future job title of 'head of sustainable investments'.
'That made a lot of sense to me. My job had largely been about giving customers the possibility of early retirement with a good financial situation, but I wanted to use my salesperson DNA to build bridges to future generations through sustainable investments,' says Morten.