Education has given Dorthe new confidence in her work as adviser
After 12 years as a private adviser, Dorthe started taking a Bachelor of Commerce part-time. The new body of knowledge and professional competence gives her a sense of inner confidence when answering customer enquiries.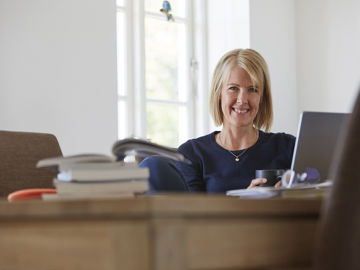 Gå direkte til Dorthe's development journey
Curiosity and the desire to try something new led 39-year-old Dorthe Quist to hit the books and start taking a Bachelor of Commerce. 
'There are many things at work that you just do automatically, purely by routine. For me, it makes a big difference to know why we do it,' says Dorthe, who is a private adviser at Sparekassen Kronjylland in Odense.
'My self-reliance and confidence improved once certain professional concepts were drilled in. I know that I have a strong level of proficiency. That gives me inner confidence,' she explains.
Dorthe had the opportunity to continue studying after completing her education as a financial adviser, but she preferred to get out there and gain some practical experience.
'Then the years passed, and our little firecrackers were born," says Dorthe, who is a mother of three.   
When the kids reached school age, she found time for educational books and homework, so she took the Academy Professional Programme in financial advice, which, with the right selection of subjects, gives access to the 2nd part of the Bachelor of Commerce education.
It's not enough to be nice and easy to talk to
Some of the subjects on the educational programme were totally new for Dorthe, while others were old friends – or so she thought at least:
'I have had social studies before, but I couldn't remember a thing. I have had many epiphanies, and it's been really exciting to delve into how society works and what influences the economy.'
Also with respect to customers, Dorthe finds that it is a big advantage to know how the world works. Many people follow the news on Trump, Brexit, negative interest and money laundering scandals, and they want to know how the development affects their personal economy.
'It's not enough that I am nice and empathetic. I also have to be able to provide good answers to the customers' questions, so that they can feel confident,' says Dorthe, who is keenly aware that customers appreciate talking to a knowledgeable and qualified adviser. 
From apprehension to specialisation in pensions
Bank customers today are independent in so many areas, so the job of adviser is changing. It is becoming more specialised, and increasingly about life's big financial decisions. So it's a good idea to find an area and go into depth, according to Dorthe.
In the final assignment of the Academy Professional Programme in Financial Advising, she chose to specialise in pensions – an area that she otherwise had steered clear of at work: 
'I had a lot of apprehension when it came to pensions because it is a huge area with pitfalls that can have extensive financial consequences for the clients. But, instead of choosing a safe subject like purchasing homes, I thought "This is difficult, so I'll do it!" and I decided to take on the challenge.' 
It would be kill or cure – and regardless of the mark Dorthe received, she was sure to benefit professionally.  The task was difficult and required effort, but it was worth it: Dorthe got a well-earned B, and today she is responsible for pensions at the bank.
'I have changed a lot in this area, from a purely professional perspective.'
No streamlined career plan
In the autumn of 2019, Dorthe switched jobs and moved from Nordfyns Bank to Sparekassen Kronjylland's new department in Odense, which is the first and only one on Funen.
'The job spoke to me because it gave me the opportunity to help build a department and client base from scratch,' says Dorthe.
Her new boss, like her previous one, is interested in employees who improve themselves:
'I received nothing but understanding and support from my managers, even though the education was demanding and it was hard to apply yourself 100 percent at work.'
Dorthe went to class five days a week and two evenings per semester, and on top of this, there was a lot of homework. 
'For a while, I spent two hours every evening after the kids had been tucked in,' recounts Dorthe. 
In September of 2020, Dorthe started the 2nd part of the Bachelor of Commerce education in Organisation and Management at University of Southern Denmark.
'I am still driven by my inner curiosity and desire to try something new. I have not laid out a streamlined career plan towards a managerial position. I am just educating myself and keeping an eye out for challenges – then we'll see what happens,' she concludes.